Ivy gourd is the vegetable loved by most. It is one of my favorite vegetables. I love it in any form. 'Fried ivy gourd' is a very easy to make and amazingly delicious dish. I was not very fond of this dish when I was a kid, but recently I have become a big fan. It tastes great when it is fried till the ivy gourds become almost black and you can't even say those are ivy gourds. Hot rice, a simple daal and these fried ivy gourd is a complete meal I would cherish anytime.
Earlier we used to smash one tendli at a time in mortal and pestle. It would take a lot of time to prep them. Now I just cut the ends, take them in a ziploc bag and smash them using a meat tenderdizer/pestle.
'Talasani' are the dishes prepared by frying the vegetables in oil. So water should not be used at any point. The other popular talasani is 'batate talasani'.
Aayi's version does not include garlic in this. But my brother tasted this dish at one of his friend's place and they had used garlic. So he started using it in this dish. I love both the varieties. Although aayi does not use curry leaves, I like to use it.
The other ivy gourd dish I make frequently is tendli upkari. We use these in different types of daals and sambars also.
Ingredients:
Ivy gourds(tendli) 2 cups
Red chili powder 3/4 tea spn
Turmeric a pinch
Oil 1 tbl spn
Mustard seeds 1/2 tea spn
Asafoetida a pinch or garlic cloves 2 (4-5 if Indian garlic is used)
Salt
Increase the chili powder if required.
Method:
Remove the ends of ivy gourds and crush them slightly.



Heat oil in a nonstick pan and add mustard (add curry leaves at this point if using). When they start popping, add asafoetida (or crushed garlic). Add the gourds, turmeric, chilli powder and salt.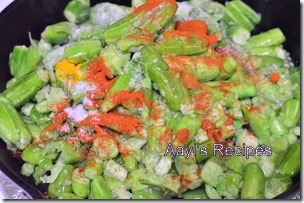 Fry on a low flame till the gourds turn dark brown/black.

Serve hot with rice and daal.
Serves : 2-3
Preparation time : 20mins
PS: These should be fried on a very low flame. If they are not fried till dark brown/black, they remain tender from inside and do not taste good. These taste great when made spicy.



Originally posted on Octbober 9, 2006. Reposting by adding a video(demonstrated by my 6 year old).