When I visited India last November, I spent almost a month and a half in Bangalore. My in-laws were at my MIL's brother's home that time. I stayed with them for a couple of days. They have a new cook at their home now. This cook comes around 11AM and makes couple of sidedishes and chapatis every day. I was told that the guy is from Orissa and cooks very tasty dishes. My MIL asked him to make a capsicum (green bellpepper) – bittergourd dish one day and they said it is one of their favorite dishes. I was very skeptic because I am not a bittergourd fan, although I have learned to eat it in last few years. But this dish was really very tasty. I prepared it couple of times at home after that. Somehow the capsicum-bittergourd mixture works really well.
This cook had a very different sequence of adding vegetables to any dish. I am used to frying onions and then adding other veggies. But I noted him adding onions at the end – he did same for many dishes that I watched him cooking. It gives a different taste to the same dish. I have to say I loved this method, I have followed it in many dishes and they turn great.
Ingredients:
2 cups chopped bittergourds (around 2 big bittergourds)
2 cups chopped capsicum/green bellpepper
1 cup chopped onion
1-2 tea spns  jaggery
1 tea spn chilli powder
1/2 tea spn thick tamarind extract
1/2 tea spn cumin powder
1/2 tea spn coriander powder
A piunch turmeric
Oil
Salt
Method:
Add salt to bittergourd pieces and leave it aside for 10-15 mins. You can either squeeze the juices out (this will remove most of the nutrients and bitterness, I do not recommend it) or use them as they are.


Heat oil and fry the bittergourd pieces for 5-6mins till they are half cooked.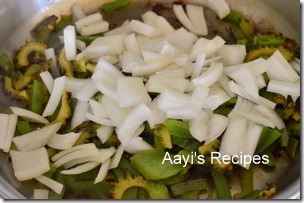 Then add capsicum pieces and fry for another 5-6 minutes.
Now add onion, fry for 2-3 minutes. Add salt (if necessary), cumin-coriander powder, chilli powder, turmeric, tamarind, jaggery.


Close the lid and let it cook on a medium heat till done.
Serve hot with rice or chapatis.
Serves : 3-4
Preparation time : 30mins