There were many recipes on this blog which were posted during my initial years of blogging. I am trying to improve them by writing better explanation and with better pictures. So now on I will occasionally pick up an old recipe and re-blog it. I am leaving the old comments as it is because I don't want to loose them.
MoLe means sprouts in Konkani. Every cuisine has it's own very time consuming but heavenly tasting dishes. "Bagade randayi" is one such Konkani dish. This has a separate place in the hearts of every Konkani person. Making the dish itself is not very difficult, but preparing "bagado" for this dish is very time consuming. So this dish has almost become extinct these days.
When I was a kid, mom prepared this frequently and every member of the house was given a heap of sprouted cowpeas to peel. I don't say I enjoyed doing it, but still we had to do it. Many times I thought, why the skin has to be removed, why can't she just use them with skin. But then, the dish wouldn't taste great with skin, so we had to remove it. Unlike sprouted moong beans where we have to just wash and skins come out of at least 50% beans, we have to remove the skin of these beans one by one.
These are usually called "desi chori" or "whole cow peas" at Indian store.
Here is the procedure for getting the cowpeas ready for the dish. Use any good method to sprout them or follow the simple method described below.
– Soak the 'bagado' in water and leave it overnight.
– Next day morning, it would have become a little bigger in size by soaking water. Drain out the water and keep it in a dry and warm place, like oven.
– By the evening small sprouts can be seen. So again add water and leave it overnight, no need to keep in oven for this step.
– Next day all of them or atleast 90% of them would have got big and beautiful looking sprouts.
– Take one handful at a time on a plate and remove the skin one by one, taking care not to break the sprouts. Some sprouts do break, don't worry about them. Usually the sprouted ones will be at the top, while taking handful for removing the skin, always take it from top carefully.
– There will be some without sprouts and they almost look as the unsoaked version. Discard them. They are usually called "chor bagado" (chor-thief) :).
– At the end, you will have two heaps, one with the ready 'bagado'. Use this heap for the dish.
– The other heap is with skin and the 'chor bagado'. Discard this.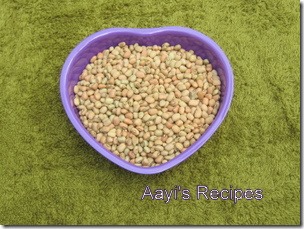 Ingredients:
1 and 1/2 cups de-skinned 'bagado'(cow peas)
3/4 cup fresh/frozen coconut
1 tea spn coriander seeds
1/2 tea spn tamarind extract or 3-4 bimbal(bilimbi)
3/4 cup chopped onion
4-5 red chilies
Oil
Salt
Method:
Cook 'bagado' with 1/4 cup onion and 2 cups water. If you are using bilimbi/bimbal (green thing shown in picture) cut them in half and add while cooking at this step. Do not use cooker for cooking this. This takes around 5-10mins, so keep an eye not to overcook them.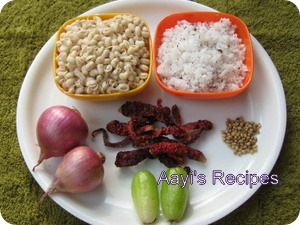 Heat a little oil and fry coriander seeds. Grind them with coconut, red chillies and tamarind(if using) to a smooth paste.
Add the ground paste and salt to cooked 'bagado'. Bring it to boil. Take care not to mix it too much, or else the 'bagado' becomes a paste.
Heat remaining oil and fry 1/2 cup onion till they turn brownish in color. Add this to the dish and close the lid.
Serve as a side dish with rice.
Serves : 3-4
Preparation time : 15mins (excluding the 60-90mins of de skinning 'bagado').
PS: This was originally posted on September 9, 2006. I am reposting it with new pictures and better description.