Usually 'ennegayi' are stuffed brinjal(eggplant). But since the tiny brinjals are not available at our native, aayi usually prepares this dish with normal brinjal cut into big pieces. Though I used small brinjals, I cut them into pieces to get the similar look and feel of the dish, also save time. This dish has the amazing aroma though the ingredients used are very simple. She usually makes it with alayle pita rotti(akki rotti) for breakfast. I made it for lunch along with jolad rotti(jowar roti).
Click here for another recipe of Engayi.
Ingredients:
Coconut 3/4 cup
Brinjal pieces 1 cup
Tamarind 1/2 tea spn
Onion pieces 3/4 cup
Cloves 4
Cinnamon 2″ piece
Red chilies 3-4
Pepper corns 3-4
Shahjeera(Caraway seeds) 1/2 tea spn
Coriander seeds 1/2 tea spn
Oil 1 tbl spn
Salt
Increase or decrease the amount of spices according to taste, keep in mind that the onion gives a slight sweetish tinge to the dish. If it hasn't got the sweetish tinge, add 1/2 tea spn jaggery.
Any kind of brinjals(eggplants) can be used for this dish.
Method:


Cut brinjal into big pieces and leave them in water for around 15mins. Discard the water, this step removes any bitterness from the brinjals(water becomes black after sometime).

 

Heat 1 tea spn oil and fry cloves, cinnamon, pepper, shahjeera, coriander seeds and red chilies. Add 1/4 cup onion and fry till they turn slightly brownish(take care not to burn spices). Add coconut and fry for around 4-5mins on low flame. Cool to room temperature and grind to a smooth paste along with tamarind.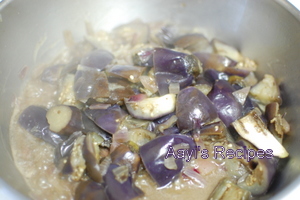 Heat remaining oil and fry onion till they turn brownish. Drain the water from brinjals and add them to the onion. Fry for 2-3mins. Add 1/2 cup water and cook till brinjals are almost done.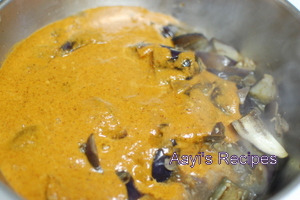 Add the ground masala, salt and cook for around 5mins.
Serve with rice roti or jowar roti.
Serves : 3
Preparation time : 25mins