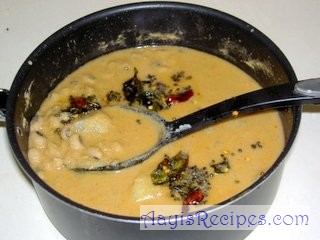 Black eyed beans or alsande is my all time favourite. Any dish with this gets a distinguishing taste. Here are few interesting traditional uses of black eyed peas.
Ingredients:
Coconut 3/4 cup
Black eyed peas(alsande) 1/2 cup
Yam(surnu)/green banana (Plantain)/potato (cut into bite size pieces) 1/2 cup
Red chillies 4-5
Oil 1 tea spn
Coriander seeds 1 tea spn
Asafoetida a pinch
Mustard seeds 1/2 tea spn
Curry leaves 5-6
Tamarind 1/2 tea spn
Salt
Black eyed beans increase in volume after soaking. So use just 1/2 cup. If already soaked one or canned ones are used, increase the amount to 1 cup.
Method:
Soak Black eyed beans overnight.
Cook beans and potatoes(or taro root or banana) in pressure cooker/microwave till done.
Heat oil and fry coriander seeds. Grind with coconut, red chillies and tamarind to a smooth paste.
Add the paste to cooked beans-potatoes, add salt, 1/2 cup water and cook for 5-10mins. (This dish is a bit watery. Infact all 'randayi' are watery side dishes).
Heat oil and fry mustard seeds. When they start popping, add curry leaves, asafoetida and one red chilli(cut into two). Add this tadka(phanna) to the beans. Mix well.
Serve hot as a side dish with rice/chapathi.
Serves : 4
Preparation time : 30min