Beetroot is one vegetable, from which I used to stay away for a long time. This was mainly because of the mess it would create while cooking. I like to cook dal, vegetables, rice at once in cooker, because it saves a lot of time. When beetroot is cooked like this, the pink color would spread to dal and rice. Then I read this comment from Anisha. It changed everything. Now I just add 1/4 tea spn of sugar while cooking beetroot and the color does not spread at all. Yayy!!! Thanks Anisha.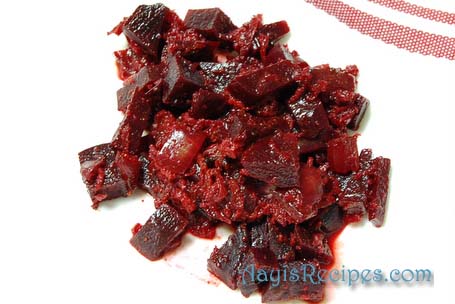 So now, beetroot is regular at home. I make many different side dishes with it, as usual they are all very simple dishes. I keep the basic recipe same and just mix it with different vegetables to make this. We love all these variations.
Ingredients:
1 cup beetroot pieces (cook 2 beetroots in pressure cooker and then chop)
1 tea spn mustard seeds
1/2 tea spn urad dal
5-6 curry leaves
1 tbl spn fresh/frozen coconut(optional)
3-4 green chillies
A pinch asafoetida
1 tbl spn lemon juice
1 tea spn goda masala or garam masala
Oil
Salt
One of the following:
1 cup sprouted moong
1 cup chopped capsicum
1/2 cup onion
Method:
Heat oil and add mustard, urad dal. When it starts popping, add curry leaves, green chillies asafoetida. Now add onion or moong or capsicum. Cover and cook till done(if onion is used, just fry till it is brownish). Now add cooked beetroot pieces, goda masala (or garam masala). Cover and cook for few minutes. Sprinkle lemon juice, coconut(optional) and switch off the gas. Mix very well. Serve hot with rotis or rice.
Serves : 3-4
Preparation time : 20mins