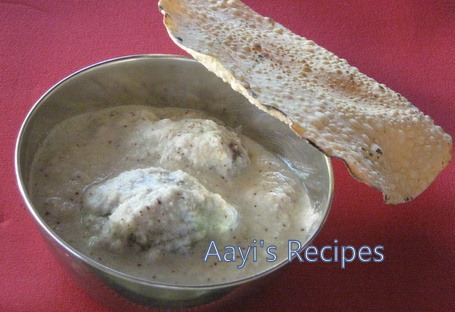 Ambade is one of the very common vegetable used in Konkani food. Ambade(hog plums/amtekayi/ambazhanga) trees are commonly found in backyards of most of the houses in our region. There are two types of ambades – sour and sweet. This is a seasonal vegetable. Tender ambades of both types are used in pickles and as souring agents in many dishes.
Some of the dishes we make with ambades are Gojju, Sasam, ghashi(Rosu/Udid methi), gravies.
Sasam is one of the traditional Konkani dish prepared in different ways. I am posting here the way in which my grandmother used to prepare. I have been making this dish for many years now.
Ingredients:
2 big ambades
3/4 cup coconut
2-3 green chillies
1/4 tea spn asafoetida
Salt
2 tea spn jaggery
Method:
Peel the outer skin of ambades and cook them in half cup of water with salt. Allow it to cool. After making a slit on chillies (to avoid splitting) dry roast green chilies on low flame(hold green chillies directly on flame).
Grind grated coconut, green chillies and asafetida to a smooth paste using the water in which ambades were boiled. Add jaggery and smash the boiled amades in that(do not grind ambades).
Ambade sasam is not heated. Ambade sasam is ready to serve.
It can be used both with rice and chapattis. We prefer to eat with papad.
Serves : 2-3
Preparation time : 20mins
Pictorial: