We get two types of edible Amaranth – red ones called as 'tambdi bhajji' and green one(we call it white) called as dhavi(white) bhajji. Any greens are called bhajji in Konkani and stems are called as dento/dente. These greens are full of iron. Moreover all parts – stem and leaves of it are delicious especially when it is tender. We prepare sukke, saasam and raandayi using this bhajji dento. Both of these varieties are very popular here. The amaranth that we get here have thick stems unlike the ones that are commonly available in Bangalore. Any kind of green amaranth can be used for this dish.
Peel the thick stems and cut them into pieces. Thick roots can also be used after washing.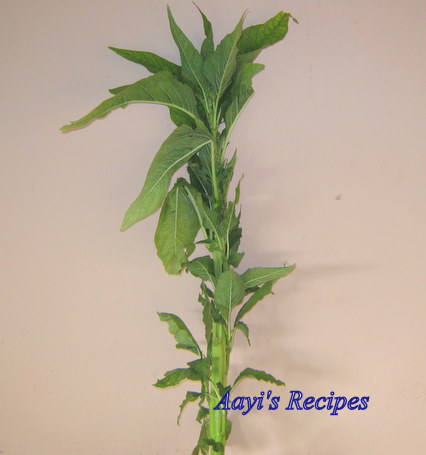 Ingredients:
3/4 cup black eyes beans(alsande) or dried peas(vatana) or green moong
2 cups amarath(bhajji dente) about 4 – 5 cms length pieces with leaves
1/4 cup baamboo shoot(keerlu) pieces (optional )
7–8 jackfruit seeds(bikkand) crushed (optional )
1 cup grated Coconut
5–6 red chillies
5–6 Teppal
2–3 Kokum pieces
1 tea spn Jaggery
Salt
Method:
Cook black eyed beans, amaranth pieces/leaves with bamboo shoot pieces and jackfruit seeds in cooker. Grind coconut with red chillies. Add the paste to the cooked mixture and heat. Add kokum pieces (or tamarind water),salt, jaggery and teppal crushed lightly.Cook for about 4 – 5 minutes. Serve as a side dish with rice or chapati.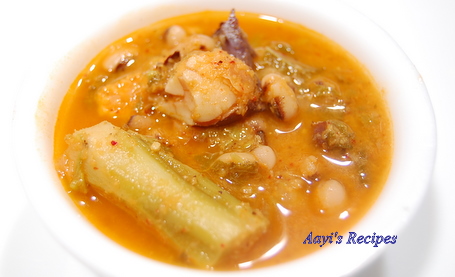 Serves : 3-4
Preparation time : 30mins