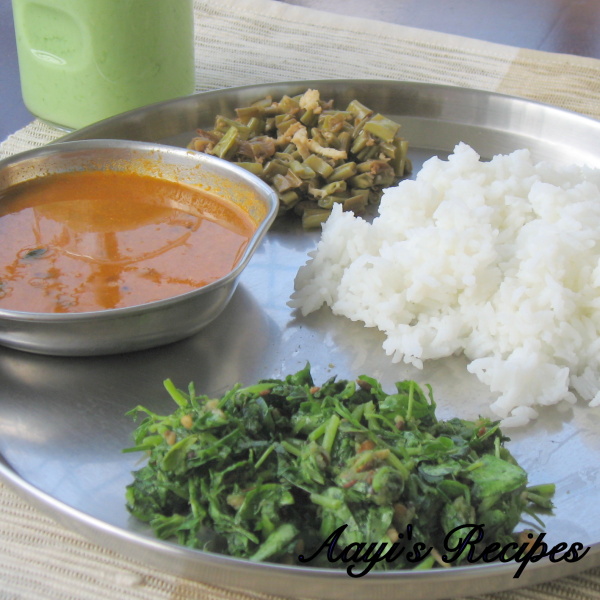 Fenugreek leaves are used in variety of dishes in Indian cuisine. In few recipes, they form base and in some other they are just used to give distinct flavor. In any case, they are of great nutritional value and if cooked in appropriate way, they become part of healthy diet. Needless to mention, healthy dish can be a tasty one too. In this category of 'healthy and tasty' dishes, this Fenugreek Salad(Methi palya) has remained our favorite for quite some time now.
We have learnt this from a close North Karnataka friend's family. This friend of mine, hardly likes our traditional dishes, due to his inherent dislike for coconut. However irony is we like everything that is made in their kitchen! Their cuisine has fewer dishes but each dish is made to perfection. Generally in any North Karnataka thali, its a practice to serve few Fenugreek leaves by side. But this dish goes extra mile, as its leaves remain raw and crunchy. The dish by itself is very tasty and competes for top spot on their thali, along with traditional Ennegaayi, Kalu, Mirchi Bajji and Gurellu powder. Just because leaves are not cooked, its always referred as Hasi Palya(raw side-dish) in their home.
We have learnt this from them and in this version, we have made one modification. Please refer to Notes for as authentic version as theirs.
Pictorial:
Wash and spread methi on a paper. Chop them.


Grind onions, coriander leaves, chillies, curry leaves, garlic.


Make the seasoning and then add the paste to it. Let it cool to room temperature and then mix with methi leaves.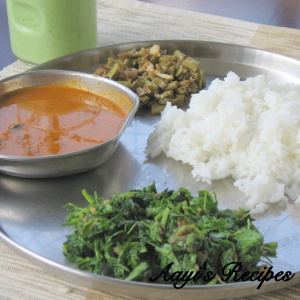 Fenugreek Leaves Salad (Methi Hasi Palya)
Fenugreek leaves salad with a dressing of freshly ground spice paste
Ingredients
1

bunch of fresh Fenugreek leaves

2

tbsp

oil

Salt as desired.
For tampering:
1

tbsp

mustard

1

tbsp

cumin seeds

jeera

1

tbsp

urad dal

1

tbsp

chana dal

1

tsp

turmeric powder
For grinding:
3

green chillies

6-7

garlic cloves

1/2

cup

onion

2-3

strands coriander leaves

3-5

Curry leaves
Instructions
Cut and separate roots of Fenugreek bunch, wash leaves, drain and spread over either a paper or dry cloth. This step is very important to get crunchy texture to dish. We need to ensure we get leaves, without any water.

Chop onion and grind ingredients mentioned above, into smooth paste. No need to add water while grinding.

In a thick bottomed vessel heat oil and add ingredients mentioned. Fry them till they start to splutter.

Add paste prepared earlier and fry till raw smell goes off and oil starts separating. Ensure turmeric is added bit later, to avoid burning.

Allow it to cool. Add 1 tsp of salt or as desired.

Chop Fenugreek leaves and mix with earlier mixture. Its advisable to mix when you are about to serve to retain freshness of Fenugreek leaves.

Serve at this stage along with rice and curry or Jowar roti and Ennegaayi.
Notes
Instead of grinding onion in to paste, you may shallow fry finely chopped onion along with other ingredients for tampering. This may require little more oil and hence we have used onion, while grinding.