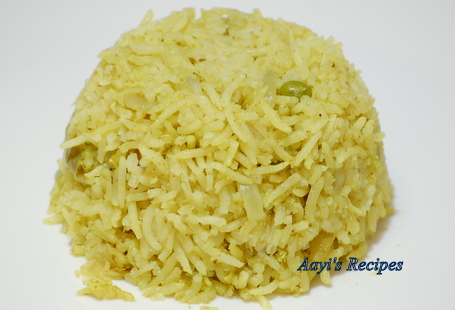 This is another one pot dish recipes that I have been preparing a lot these days. I feel these rice dishes packed with nutrition because of all different vegetables, they are very tasty and can even be served during parties/get-togethers.
The spices and coconut give a very nice, unique flavor to this pulav. I use small tender eggplants(brinjals) in this which gives a good taste(I normally don't use eggplants in vegetable pulavs). I usually make a big batch of this in the evening so that we can have it for dinner and also take in our lunch boxes.
Ingredients:
1 and 1/2 cup basmati rice
2 cups vegetables (green peas, capsicum, carrot, potato, eggplant)
1/2 cup onion
2 cardamom
1 bay leaf
Ghee/Oil
Salt
Spice paste (Heat a little oil, add cloves, cinnamon, poppy seeds, coriander seeds, cumin seeds, onion, ginger, garlic. Fry for few minutes. Grind to a smooth paste along with other ingredients):
1 tbl spn fresh/frozen coconut
1/4 cup onion
3 green chillies
3 cloves
1″ cinnamon
A pinch turmeric
1 tea spn poppy seeds(khus khus)
1 tea spn garlic
1 tea spn ginger
1 tea spn coriander seeds
1/2 tea spn cumin seeds
3-4 strands coriander leaves
Method:
Heat oil(and little ghee for extra taste) and add cardamom, bay leaf.
Add onion, vegetables and fry for few minutes. Now add rice, paste, salt. Fry for 2-3mins.
Add 3 cups of water. Cook on medium heat till done.
Serve hot on its own or along with raita.
Serves : 4
Preparation time : 45mins