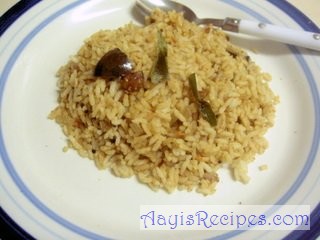 Vangi-eggplant, bhath-rice is probably one of the most popular rice items in Maharashtra and few places in Karnataka and Andhra. I say few places because it is not very common at my native (which is in Karnataka) but I have seen this a lot in Bangalore. I have seen most of my Andhra friends preparing this dish, so I guess it is popular there also. But the Marathi name suggests it might be originally from Maharashtra.
Everybody has their own spice mixture for this dish. I always used the store bought "Vangi bhath masala" and prepared this. But when I tasted my friend Poornima's Vangi bhath, I just loved it (considering I am not a big fan of eggplants). Few days back I asked her for the recipe along with the "Vangi bhath masala" and prepared it. Now I prepare it once in a week for lunch. I have prepared a big batch of masala and making the vangi bhath with ready masala takes hardly 15-20mins. I have become a huge fan of this dish now.
Have a look at the methods followed by few of my food blogger friends: Manisha, Vineela, Mandira, Pavani, Asha.
Vangi bhath masala:
Chana dal 1 tbl spn
Urad dal 1 tbl spn
Moong daal(yellow) 1 tbl spn
Coriander seeds 3/4 tbl spn
Cumin seeds 1/2 tea spn
Cinnamon 2″ piece
Cloves 5-6
Red chilies 7-8
Oil 1/4 tea spn
Roast all the spices (except chilies and cloves) one by one on a very low flame till they leave a nice aroma.
Heat oil and fry the cloves. Take out and in the same vessel, fry the chilies a bit. Powder them all. Store in an air tight container.
PS: According to the original recipe given by Poornima, the masala includes "Moggu" – which looks similar to cloves but slightly bigger than that. I tried searching for it in the Indian store, but could not find it. I don't even know the English name of this spice, so I replaced it with cloves.
She uses different kinds of chilies, some for the color and some for the spicy taste. I had only Byadagi chilies (a variety available in Karnataka). So I just tried with these chillies. You can increase or decrease the amount after trying the vangi bhath yourself.
Vangi bhath Ingredients:
Pea nuts 1 tbl spn
Chana dal 1 tbl spn
Mustard seeds 1/2 tea spn
Curry leaves 4-5
Green chilies 1-2
Onion(chopped) 1/2 cup
Eggplant(thin long ones) 1-2
Tamarind extract 1/4 tea spn
Vangi bhath masala 2 tea spns
Turmeric powder a pinch
Shredded dry coconut 1 tbl spn
Rice 1 cup
Lemon juice 1 tbl spn
Oil
Salt
I have cut the eggplants into small thin pieces to suit my taste (this is what I understood from the description given by my friend).
Be careful about the Lemon juice – tamarind. Since both are souring agents, use them carefully.
Method:
Cook the rice and keep aside. Take care not to over cook the rice, otherwise it gets mashed after mixing with the spices.
Cut the eggplants into desired shapes. Keep the pieces in water. Before using, discard the water.
Heat oil and fry peanuts. Take them out. Add chana dal, fry and take out.
Heat remaining oil (take slightly more oil, say around 1 tbl spn) and add mustard seeds. When they start popping, add curry leaves and fry for sometime. Add green chilies, onion and fry till the onions turn slightly brownish. Add eggplant pieces and fry for sometime. If required, sprinkle very little water, close the lid and cook. When the eggplants are done, add tamarind, salt, vangi bhath masala, turmeric powder, dry coconut and mix well. Take off the heat.
Add rice, lemon juice, fried peanuts and chana dal and mix well.
(Do not garnish with coriander leaves).
Serves :2
Preparation time : 20mins