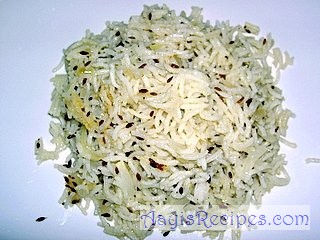 Ingredients:
Basmati rice 2 cups
Onions 2
Cumin seeds 2 tea spns
Ginger-garlic paste 1 tea spn
Coriander leaves 4-5
Green chillies 4-5
Ghee 2 tbl spns
Water 5 cups
Salt
Method:
Heat oil in a pan and add cumin seeds. When they start spluttering, add ginger-garlic paste, green chillies and onions. Fry till onions turn slightly brown. Add rice and fry for 2mins. Add water and salt. Cover and cook. Garnish with coriander leaves.
Serves : 4
Preparation time : 30min