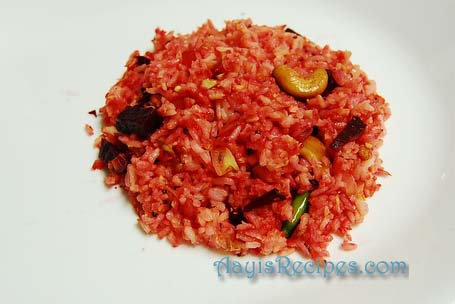 I guess the name comes from its color – 'gulabi', (rose color in few of the Indian languages). This recipe was sent to me by Pelicano. Before that I used to make beetroot pulavs sometime, but they never turned out so good. But with this recipe, it came out very well.
Pelicano said, "I wanted to tell you that I tried a recipe from Premila Lal's book yesterday, a recipe that I have seen many times while turning the pages, but never attempted until now. It is called 'Gulabi Pulao'(rose-coloured pilaf?). It is very tasty indeed and such a splendid color achieved from the use of red beets and a little turmeric. It also has curry leaves and coconut, so it hails from the south of India, but no mention of specific place".
Ingredients:
3 cups of cooked rice
2-3 tea spn ghee
1 handful of cashews
1-2 tbl spn of lemon juice
1 tea spn mustard seeds
1/2 tea spn black pepper
? tea spn cumin seeds
1 tea spn chana dal
1 tea spn urad dal
6 green minced chilies
3 small eggplants, diced to 1/4
2 medium onions, diced to 1/4
4-5 curry leaves
1 large or 2-3 small beet(s), boiled for 30 min, then skin removed and diced
1/4 tea spn turmeric
2 cups of a coconut, grated finely
Salt
Method:
Cook rice and keep aside.
Fry cashews in ghee until golden, remove the cashews season with lemon juice and keep aside.
Heat remaining ghee and add mustard seeds, black pepper, cumin and daals. When the mustard seeds splutter, add the chilies and fry until the daals are golden.
Add the eggplant, onions, and curry leaves and cook until vegetables are soft.
Add the diced beet, salt, turmeric and coconut and fry 1 minute.
Add rice to the pan and stir gently until well-combined and all of the rice is well-colored.
Turn out onto a serving plate and decorate with the cashews.
Serve with plain yogurt.
Serves : 5-6
Preparation time : 20mins