Ragi mudde must be one of the most popular items of Karnataka cuisine. I have heard about it from the time I was a kid, but never got a chance to taste this. It was on my to-do list for a long time now, finally I prepared it. In my opinion, it takes some time for any one to get adjusted to the taste of these ragi balls.
Its amazing that few comments from other people in your life just remain with you throughout your life. I rarely remember everything that people have said to me unless it makes a very good/bad effect on me. I clearly remember one comment from one of my teachers till date, I even remember the way he said what he said, not sure why. I was in my first year of high school (we called it 8th standard), it was a Kannada language class and for some reason there was mention of ragi. We were some 50+ students in class and our teacher turned to me and said, "See Shilpa, I eat ragi mudde daily and I am so strong, I can even break a stone with my hands. You eat expensive rice and you are so weak". I don't know if I felt bad about it or I was just stunned, but I never imagined I would remember this even after so many years. So every time some one talked about it, I remembered that teacher. Btw, I was his favorite student, so I know his remark was not to hurt me.
When I started blogging, I read about ragi mudde over and over again in many places. It was in the back of my mind and I even bought ragi flour, but some how the color and taste of it always put me off. Then I got a treasure in the recipe collection. Have a look at – Madhu's ragi mudde, Shynee's ragi mudde, Latha's ragi mudde with avrekalu saru, Ramya's ragi mudde. There are many more, but I read these before going ahead.
The following information is from a cut out of Tharanga magazine-2003. In one of the editions, the magazine asked "mudde prashne"(mudde question) to readers. According to the magazine, they got flood of answers from readers. They chose few of them and printed. Its a treasure for any mudde lovers. It had all the information from A to Z about ragi mudde plus lots and lots of side dishes that go well with these. Well, I am not going to translate the whole article here, but I will post about some things I learned about mudde in this post.
I am thankful to K.M.Navaratna Kumari, who actually collected all the information from different user responses and came up with this amazing article for the magazine.
Ingredients:
1 cup ragi(finger millet) flour
2 cups water
Salt
Method:
In old days, these were made in mud pots. Then aluminum vessels replaced them. Now people use steel. Traditionally a thick stick known as "mudde kolu" of 2″ wide, 1/2″ thick and 18″ tall is used to mix the contents of the mudde. Most popular ragi muddes are made bland without salt.
Heat water with salt in a vessel with wide opening. When water starts to boil, add about 2 tea spns of flour and mix. Soon the mixture starts to thicken.
At this stage the mixture is called "KoTare".
When it starts to boil, add remaining flour. DO NOT mix with the spoon and DO NOT close the lid. Now the koTare starts rising abound the dry flour. Leave it as it is for about 5mins.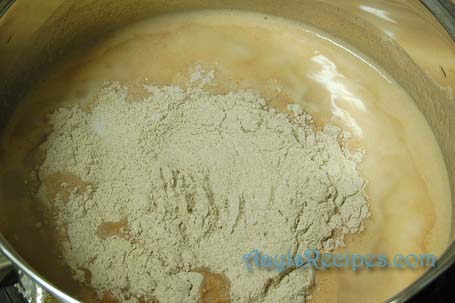 Now push the dry flour down with the spoon so that it is covered with liquid (do not mix it, just push it down). On a low flame, let it cook for 10mins.
At this stage a very nice aroma comes out of the mixture.
Take off the heat and with the help of mudde kolu or a normal wooden spoon mix it very well, taking care to remove all the lumps.
Traditionally the vessel is held tight with the feet and the contents are mixed with the mudde kolu. This step is called "goTayisuvudu". According to the article, knowing when the mixture is cooked and how much to mix is a art in itself. It comes only with lots and lots of practice.
When the mixture is still warm, apply some water to hands and shape it into balls (roughly of tennis ball size). Cover with a damp towel till they are served to avoid drying up.
These are usually served with some kind of thin gravies like bassaru or massaru. Some people also serve green chilies and raw onion with them. These are usually eaten with hands and not spoon. Take out a small piece of mudde, dip in gravy and gulp it. To get the ultimate feel of these, do not chew them.
PS: First timers, please be very careful while eating them. Needs enough care while gulping them, but once you get used to it, they taste delicious ;).