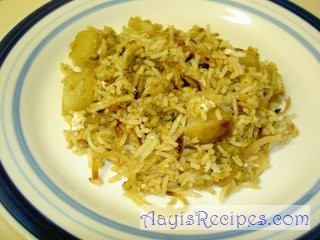 I donno the origin of this biryani. I learnt it from the cook(aapa) of my pachi's house in Belgaum. I guess this is a traditional muslim dish. But for vegetarians my pachi uses vegetables(mainly potatoes) instead of chicken.
Ingredients:
Basmathi rice 2 cups
Chicken 1/2 kg
or Potatoes(you can even add cauliflower,carrot, beans along with potato) 3-4 Onions 2
Coriander leaves 15-20 strands
Mint(pudina) leaves 10
Green chillis 5-6
Ginger-garlic paste 2 tea spn
Curd 2 tbl spns
Food color(orange or yellow) a pinch
Biryani masala 1 tea spn
Salt
Oil 2 tbl spns
Ghee 2 tbl spns
If Biryani masala is not available or if you wish to use fresh masala, then dry roast the following and make powder.
Cloves 6-7
Cinnamon 2″ piece
Cardamom 2
Poppy seeds 2 tea spns
Nut meg(Jayphal) 1 small piece
Method: Cook the rice with 2 drops of oil and salt(Oil doesn't allow the grains to stick together) in around 1:3 water for 10min. (Rice should be only half cooked). Drain the water. Grind coriander leaves, green chilies, mint leaves, ginger-garlic paste, 1/2 onion to a fine paste. Add this paste, salt and curd to chicken or vegetables and keep it aside to marinade. (chicken should marinade for about half an hour to one hour. Vegetables need not be marinated).
Cut the onions into thin long pieces. Heat oil & fry them till they turn brownish. Separate out the oil from onions.
Heat the oil(left out from frying the onions) in a heavy bottomed pan. Add the marinated mixture along with chicken, salt(add less salt because it is already added to rice), 1/4th of the biryani masala. Spread a thick layer of rice. Then spread a layer of onions, biryani masala, color(mixed in water). Again add a layer of rice & repeat the procedure given in this paragraph till all rice, onions, biryani masala, color is added. From above add ghee. Add 1/2 cup water. Close the lid & cook on low flame for about 10-15minutes. Then remove the flame & let it cook on the heated stove(without flame). Serve hot.
Updated on Sep 15: Today I tried the biryani with Shaan Biryani masala instead of home mase masala. It came out very well.
Serves : 4
Preparation time : 45min – 1hr
For step by step instructions, click here. This tastes great with chicken gravy.