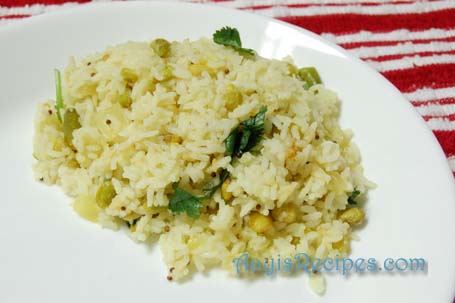 AvrekaLu being the most popular beans found in Bangalore, it is used to cook almost all kinds of dishes from upma to dosa to gravies. As I mentioned in avrekaLu huLi post, since my husband loves these beans, I have started cooking this more and more. My biggest headache these days is to come up with a delicious and fast cooking lunch which can be cooked literally in 10-15mins. Since I cook both breakfast and lunch in the morning, I start for office by 7.30AM and I can't get up before 6.00AM, I try to cook something that has minimum number of steps in it.
When we were working together in Bangalore, my friend and ex-colleague Poornima used to bring a delicious avrekaLu chitranna in her lunch box. I used to love it a lot but had no idea how to make it. So I followed the same steps as normal chitranna, and it turned out to be very delicious. Now I make this once a week and we love it. Since it is a healthy dish and can be prepared very fast, it is a win-win situation for me.
Ingredients:
3/4 cup avrekaLu
1 cup rice
A pinch turmeric
A pinch asafoetida
4-5 green chilies
4-5 curry leaves
1/2 tea spn mustard seeds
1/2 tea spn urad dal
1-2 tbl spns lemon juice
2-3 strands coriander leaves
1/2 cup onion
Ghee/oil
Salt
Method:
Cook rice till it is cooked and grains are separate. I usually add a drop of oil, this prevents sticking of grains to each other.
Cook avrekaLu in minimum amount of water. I cook both together in pressure cooker.
Heat ghee/oil and add mustard seeds, urad dal. When they start popping, add green chilies, turmeric, curry leaves and asafoetida. Fry for sometime and then add onion and fry till they turn slightly brownish.
Mix lemon juice and immediately add rice, salt and cooked beans (if lemon juice is heated for long, it turns bitter. So do not heat it for long). Stir very well. Garnish with coriander leaves.
Serves : 2-3
Preparation time : 15mins