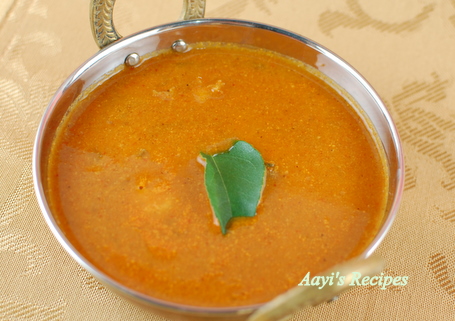 This is a simple shrimp gravy that I tried couple of months ago. My parents were here at that time and they used to take care of cooking, baby and everything else around home. I wanted to give some rest to them and so decided to cook something. This is what I came up with. This is inspired by my aayi's sungta ambat. I wanted to give a slight different taste to it, so I used a paste of onion and tomato.
Ingredients:
1/2 lb shrimp
1 cup onion (for paste) + 1/4 cup finely chopped onion
1 cup tomato
5-6 curry leaves
4 cloves
1″ cinnamon
1 tbl spn chopped ginger
1 tbl spn chopped garlic
2 tbl spn fresh/frozen coconut
4 red chillies
1 tea spn coriander seeds
3 green chillies
A pinch turmeric
Oil
Salt
Method:
Heat oil and add coriander seeds. When they are fried, add onion, ginger, garlic, green chillies, cinnamon, cloves and fry till the onions turn translucent. Add red chillies, coconut, tomatoes, salt and cook till tomatoes turn mushy. Grind to a paste.
Heat oil and add curry leaves and onion. Fry till the onions are translucent. Add shrimp, turmeric and fry for 2-3mins. Pour in the ground masala, add enough water to bring it to gravy consistency and cook till the gravy starts boiling.
Serves : 3-4
Preparation time : 30mins
Pictorial: