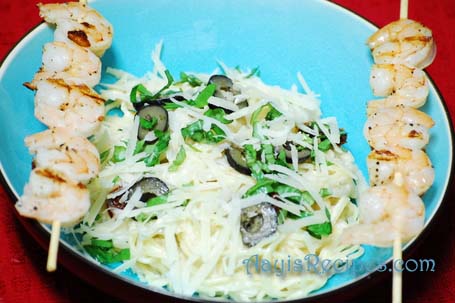 It happens very regularly with me, I see something on one of the foodblogs and I get this craving to make it myself. I try to suppress it as much as possible, but sometimes, the cravings take the upper hand. If I have to blame someone for my latest craziness – it is Sig because of her lovely event Grill it. I have seen grilling in all its forms on Food network which I watch almost all day (when I get time). But it was till Sig started with this event, I never thought of buying a grill pan for me. Not only she announced this event, she started posting absolutely mouthwatering dishes one after the other (check here, here and here). Finally I lost the battle and decided I had to buy a grill pan if I had to sleep well.
I bought a tiny cast iron grill pan – on one of my grocery shopping trips where I just wanted to buy yogurt, I thought of having a look at grill pans. I stopped near that isle for close to half an hour trying to convince myself against buying the pan. But in vain. I finally bought it (Ah, did I mention, I forgot to buy yogurt and returned with just the grill pan??). Anyway, that's how my grilling madness began.
Now it is this situation in my home- I grill anything and everything on this pan , which by the way is the only cast iron pan I have. I hate cast iron because of its weight. I know it is good to use these pans compared to non stick, but I never owned or liked cast iron pans because of their weight. Since we keep moving from place to place, I feel things keep adding up. So when I showed it to V, he didn't know why in the world I had decided to buy such a heavy pan.
This is one such dish I prepared last week. Very easy to make and very delicious. I don't miss those fancy Italian restaurants anymore :).
Pasta same as this recipe. Only changes I made are – did not use lemon in the sauce. Added sun dried tomatoes, olives and basil as garnishes after the pasta got ready.
Grilled shrimp:
20 medium sized shrimps
1/2 tea spn black pepper powder
1/2 tea spn salt
1 tbl spn lemon juice
Olive oil
Method:
Clean the shrimp. Add pepper, salt, lemon juice to shrimp and leave it aside for about 45-60mins. Arrange the shrimps on skewers and grill them on a hot grill.


Serve with the pasta.

Serves : 2
Preparation time : 20mins
Update: Click here for details of my grill pan. It is a small one (and very reasonable) which I found at Target. Its enough for two people. But if you have more people in family, go for the bigger one.