I have mentioned many times earlier that my aayi makes one of the best pickles I have ever tasted. They are usually very long lasting. The batch I brought with me in Jan last year, ended me whole year (well..I am very stingy when it comes to her pickles). Last year when I saw Manisha's gorgeous lemon pickle and lime pickle, I immediately wanted to try aayi's version also(Manisha, since we have a balcony now, I am going to try your both versions before summer ends). But unfortunately I burnt some spices while making this and my blender didn't make a very smooth powder of the spices. In all, the pickle was not worth a picture.
This pickle can be made both with lemons (thick skinned yellow ones) and limes(thin skinned green ones). Usually the pickles should be made with the lemon or limes that are full of juice. The juice helps in pickling process. Lemon skin takes a long time to soften, lime becomes soft very soon. But my personal favorite is lemon because once the skin gets soft, these have a thick pickled skin with tastes just out of this world.
At my native, we had a lemon tree – we called these as Italian limbe. These were used to make this pickle. But these days my parents specially buy the limes with lots of juice to make this. I am an avid pickle eater and one of my favorite is this pickle. I love the taste of pickled ginger pieces in it (even though I am not a big raw ginger piece fan. I love the taste of it in this one). Some of my relatives who never liked lemon pickle before have become huge fans of aayi's version. I can survive on this and curd rice alone :). I recommend to all people who usually love or hate lemon pickle to try this atleast once. I can bet you will love this.
Ingredients:
3 cup lemon/lime pieces
1/2 cup salt
3/4 cup chili powder
1 tea spn turmeric powder
2 tea spn mustard seeds
1/2 tea spn asafoetida
1/2 tea spn fenugreek seeds
2 tea spns oil
1 tbl spn chopped green chilies
1 tbl spn ginger pieces
Method: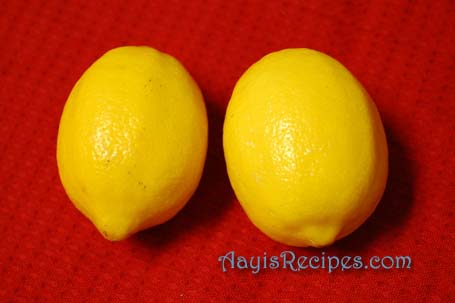 Cut the lemons or limes as shown below.
Heat 1 tea spn oil and fry mustard seeds, fenugreek seeds, asafoetida on a medium heat. Take care not to burn any of these. (Mustard turns really bitter when it gets burnt, so be careful) . Take off heat and add turmeric powder. When it is cooled to room temperature, grind it to a smooth powder.
Mix the above powder, salt, chili powder to the lemon pieces and mix well.
Heat remaining oil and fry ginger and green chilies for 2-3 mins. When it is cooled to room temperature, mix this with the lemon pieces. (Take care to mix this when it comes to room temperature. If this is mixed when hot, the pickle gets spoiled soon).
Store this in an airtight container. Leave it as it is for about 15days. Then open the container and see if the pickle is fine. Then close the lid again and leave it for about 45 days. As the pickle gets ready, the lemon pieces get softer. This time largely depends on the kind of lemon/lime used.
PS:
– To speed up the pickling time, some people boil the pieces and make the pickle. By boiling them, pickle gets ready within 4-5 days, but it does not usually have very long shelf life. Also, the Vitamin-C content in the lemon/lime gets lost. I personally prefer this slow pickling process where the pieces are not boiled.
– While making the pickle, make sure all the vessels, spoons, grinder/mixer are very dry. Even a small drop of water makes this pickle spoil soon. Even while serving the pickle, make sure the spoon you put in this container is very dry. Better yet, transfer small quantity in a smaller container which can be used to serve.
– As I mentioned earlier, the spices should NOT get burnt while frying. While making my last batch, I accidentally burnt some of the spices and the pickle became very bitter and I had hard time to finish it off.
– Any pickle should taste salty when it is prepared. The salt gets absorbed by the pieces as time passes. If it tastes just perfect when the pickle is prepared, it gets spoiled soon.
– Use limes or lemons that has lots of juice.
– Open the lid of lemon once in about 2 weeks and mix with a clean dry spoon. This helps in redistribution of salt.