Last week we had a team outing. Everyone was supposed to bring one edible item. I thought of picking up some cakes and cookies from store as I was quite busy. Unfortunately for me, someone else said they will bring this before I could. So I had to come up with something, that too quickly. Without thinking about it, I said I will bring in pastries.
I was actually thinking of picking pastries from store. But then, whats the fun in that? so I decided to make my own. I thought of making a Danish pastry, as everyone liked it in my previous office. But it needs quite a bit of time and I had very less time. I had to cook/bake this on Thursday evening after coming back from office or early Friday morning before leaving for office. It was bit difficult. So I decided to search for some other recipe, which was quick.
I wanted a eggless recipe as one of my colleague does not eat eggs on Friday. I wanted everyone to enjoy it. I did a quick search and landed on Cynthia's blog. She had highly recommended this pastry. So I decided to give it a try. Thanks dear Cynthia, for the link. I slightly modified the recipe.
I made the pastry dough after returning home from work on Thursday. I was a bit frustrated as I had to run to store twice because I kept forgetting one thing or other. I wanted to make the pastries on that day and bake them on Friday morning, but that did not happen. So I made these on Friday morning. They were liked by everyone. V simply loved them. Considering they are so easy to make, I am going to make them for any special occasions hereafter.
Ingredients for dough : (original recipe)
3 1/2 cups all purpose flour
1 cup wheat flour
1/4 cup sugar
1/4 tea spn salt
1 1/2 cups unsalted butter (cold)
1/2 cup vegetable shortening (or vanaspati ghee)
12 tbl spns cold water
1 tea spn orange zest
Method:
Cut the butter into small pieces. Mix all the ingredients together till everything is becomes like a coarse mixture. Press it into a ball, wrap tightly in plastic wrap and refrigerate it for about 2hrs. (The dough is quite hard at this stage).
Preheat the oven at 350F for about 10mins.
When making pastries, take out the dough and roll into desired shape. Since it has a lot of butter in it, when you start mixing it, the dough becomes quite easy to handle. Keep the filling and cover with dough and seal the ends. I used a cookie cutter to give a nice shape.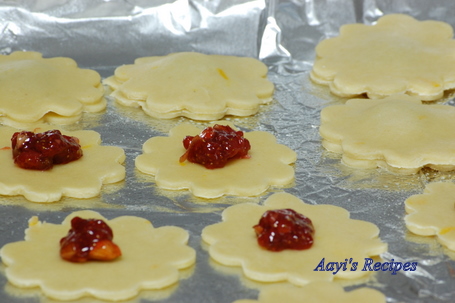 Brush the top with eggwhite (I used butter) and bake in the oven at 350F for about 20mins.
Mix 1/2 cup confectioners sugar(or fine sugar powder) with 1/2 cup water. Bring it to boil. Take off the heat. Brush this mixture on top of the pastries.
Now sprinkle some more powdered sugar on top (the sugar syrup acts as a glue).