Jolad rotti or Jowar rotti is a must in any North Karnataka(Hubli, Dharwad, Belgaum, Gokak, Bijapur) 'Lingayat' house. Lingayat women are experts in making these. A lot of experience is required in making these in the traditional way.
The dough is prepared by mixing the jowar flour with hot water and then the roti/rotti is spread using the palm. You can see the details here.
I tried making these rotis in the traditional way for 2-3 times with little success. Though I could spread it to get the perfect shape, I couldn't make it very thin(I like these rotis very thin and soft). Then aayi gave me this idea and I am able to successfully make the rotis the way I like in no time.
If you are a Bangalorean, don't miss the "Jolad rotti oota" in Kamat Minerva (at Minerva circle). The taste is superb there. They serve jowar roti with 2-3 sides, one of them is always 'Ennegayi (stuffed brinjal)', and butter.

Ingredients:
Jowar flour(Jolad hittu) 1 cup
Water 1 and 1/2 cups
Salt
Method:
Heat water and add salt. When it starts boiling, add the flour and mix continuously till all the water is absorbed. Take off the heat.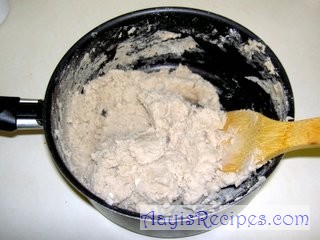 When it is still hot, knead the dough on a flat board. Spread using the rolling pin (For rolling, apply dry flour as much as needed. If the roti breaks, make it into a ball again, apply some more flour and roll).
Fry on the heated tava like chapathis. These taste great when served hot.
Serves : 2
Preparation time : 10min