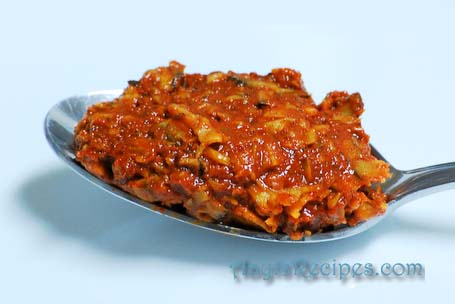 Hello everyone,
It was a bit difficult to decide which would be my first post. Shilpa and her husband (who call themselves as 'board of directors' of this blog) voted for this recipe. This is a pickle loved by my kids and other relatives. I noted that many of the readers of this blog also wanted to know about this pickle.
When I got married, I didn't know a lot of cooking. I was just out of college and my grand mother hardly allowed us kids to enter the kitchen. When I got married, I had to take over the kitchen (my mother-in-law had passed away before our marriage). My husband and father-in-law were very supportive. One of my sister-in-laws who lived few kms from our home, used to visit us frequently. I learnt a few recipes from her. This pickle is one of them. Over the years, I experimented with it and we like the version I make now.
Here Koccholu means small pieces. I make this pickle with a special kind of mangoes called 'vishad/ishad'. Many people say it should not be done with these mangoes. But I have found that, with these mangoes, the pickle remains good for a very long time. With any other mango, the pieces become soft very soon and the pickle gets spoiled. Ishad mangoes are hard and have lot of pulp in them. They have a very unique taste to them. For this pickle, use unripe mangoes that have a hard seed(gorto). As these mangoes are very delicious and very popular at our place, no one sells the raw mangoes. During the mango season, Ishad mango trees bear hundreds of fruits. Some of the branches can't bear the weight and they fall down. So I use these for hinDi.
These days I make this pickle mostly for Shilpa and her husband who love all kinds of pickles. When stored in air tight container in refrigerator, this remains good up to a year. I still have some from last year's batch which I took with me when I visited Shilpa last year.
Important to note here that the mango should not be grated. I use the traditional cutting equipment called as "Addoli". This helps in keeping the pieces crisp. When grater is used, the pieces become soft. But if you are living outside India and don't have addoli or Ishad mangoes, use any raw mango (which has hard seed) and any cutting equipment available, but I think the shelf life of pickle would be very less.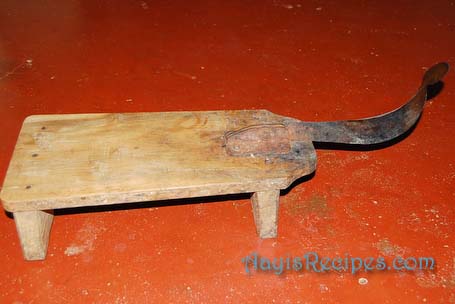 – The pickle should be salty when it is made, as time passes, the pieces soak the salt and it also increases shelf life.
– Make sure none of the vessels have any moisture in them.
Ingredients:
1 cup mango pieces
1 tbl spn mustard seeds
3/4 tea spn methi seeds
A small pea sized asafoetida
1/4 cup chili powder
1-2 tea spns sesame oil
1/4 cup salt
Method:
Cut mango into small pieces.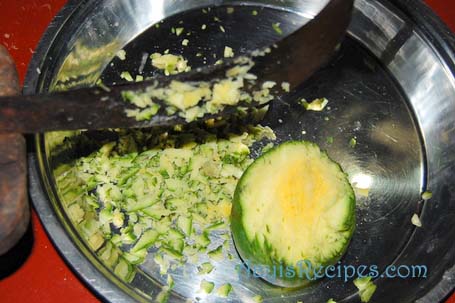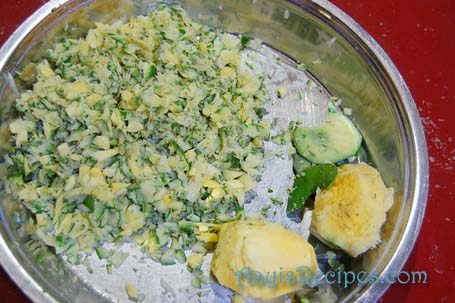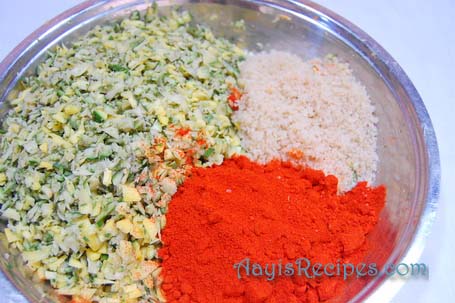 Heat oil and fry asafoetida, mustard seeds, methi seeds. Grind to a powder. Cool temperature.
Add the powder, chili powder, salt to mango pieces and mix well.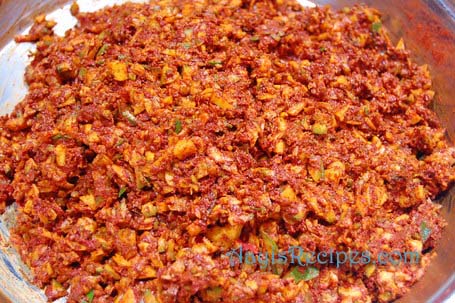 Store in air tight container.
Hope this helps all of you who love the 'HinDi' pickle.
Added a video to the post on Aug 2 2020. Originally posted on May 25, 2008