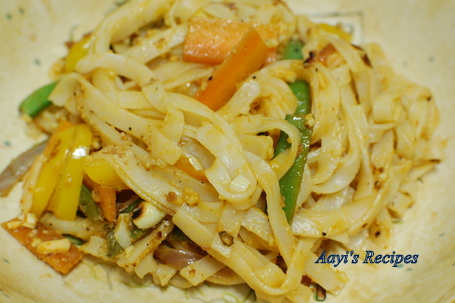 I had mentioned about our love for Mongolean grill here in US. The best part of it is, we can make the dish according to our own taste. While I like to put almost everything that is available – all vegetables, some chicken, some seafood, most of the sauces, some spices in mine – I usually don't even remember what went into my bowl, V is very particular about what goes in his bowl. My food tastes different every single time and I like it slightly spicy and sweetish, he usually likes it hot.
It was on my to-do list for a long time to make his version at home. The only noodles I had on hand were Pad Thai noodles. Since he is not a big fan of Pad Thai, I thought of making something else with these noodles. I asked him what are the sauces he uses at Mongolean grill. His sauces were pretty simple. Since I did not have the exact sauces or vegetables, so used the sauce that I had and the final result was really great. I also added some peanut powder to give a crunch – which was actually a replacement for roasted sesame seeds, I was out of my sesame seeds stock. We both enjoyed a hearty dinner (which took hardly any time to put together). I am going to stick to this recipe hereafter. Any kind of noodles can be used for this.
Ingredients:
1/2 lb noodles
2 cups vegetables (snow peas, carrot, onion, red and yellow bellpeppers)
1 tbl spn lemon juice
2 tbl spn coarsely powdered roasted peanuts
Olive oil
Sauce (mix together):
2 tbl spns red chilli sauce
1 tea spn brown sugar
1/2 tea spn ginger powder
2 tea spn chopped garlic
Salt
Method:
Cook noodles according to packet instructions. Keep aside.
Heat olive oil in a thick bottomed pan (ideally use a stir fry pan, I don't have it, so used a thick bottomed pan).
Add all vegetables and fry for about 2 mins. Add noodles and the sauce mixture. Mix well, if it becomes too dry, you can add little starchy water used for cooking the noodles. Spread peanut powder and mix well. Add the lemon juice, mix and take off the heat.
Serve hot.
Serves : 2
Preparation time : 30mins