In Object Oriented Programming word, whenever there is clash between names, programmers prefix it with another name to make whole phrase unique. If there is a clash between function names, prefixing with object names them unique in that space. If there is clash between different objects of different classes, concept of namespaces comes to rescue. Prefixing with namespace resolves clashes when it comes to compiling. We do see this at many places in real life too. This generation of people at Kodkani used this so effectively to identify persons when there is such 'identity crisis'. When my grandfather was alive, at my native there were multiple 'Ram Annas' working at different places. The Ram Anna who was working at post office was called 'Post Ram Anna'. The other Ram Anna who was having shop called 'Aangadi Ram Anna'(Aangadi means shop in Konkani/Kannada). There were multiple Mukund annas too. The one who lived in Aachari Hittal(an area in Kodkani) was called 'Achari Hittal Mukundanna', the other elderly person lived close to barron land and hence was referred 'Bena vailo Mukundanna'. Such a simple concept was perhaps adopted while implementing compilers later!!
This recipe name must be quite puzzling. But this is how it is referred in my house as this recipe comes from a friend Venkat who is ex-colleague. He generally does not like eating outside his house and had invited us to his house once. This dish was prepared at his house and we liked and asked the name. He said for us chicken means this is it. When we say there is chicken today, it means it is only this chicken. We took recipe from him and in fact from his wife and prepared few times. It was liked by everybody. However as we prepare variety of chicken gravies and for us it is one amongst many gravies, we had to give a unique name – now over the years for us 'Venkat's chicken' means it is this chicken gravy. This new brand was born few years back but recipe was perhaps established one at his place but certainly new to us.
Pictorial:
Take the garam masala ingredients.


Dry roast all the garam masala ingredients and grind to a powder.

Take gravy ingredients.

Fry onions, chilies. Add the chicken.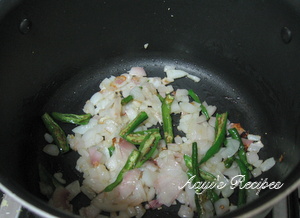 Add the spices.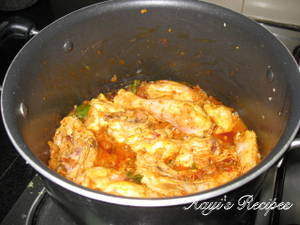 Add the ground spice. cook for sometime and then coriander leaves.

Venkat Chicken Gravy
Chicken is cooked in a flavorful gravy prepared by grinding fresh spices and coconut to make this spicy and tasty chicken gravy.
Ingredients
1/2

kg

Chicken

1

cup

grated Coconut

2

tb

spns Ginger garlic paste

we always prepare paste fresh and never use readymade paste

1

chopped medium sized onion

5

Green chillies

2

tbl spns Red chilli powder

1/4

tbl spn Turmeric powder

4-5

strands Coriander leaves

Salt

4

or 5 tbl spns Oil
For Garam masala powder:
4

tea spns Coriander seeds

1

tbl spn Poppy seeds

2

pieces

2 inch Cinnamon

5

Cloves

2

Cardamom

2-3

Peppercorns
Instructions
Heat 4 tbl spoons of oil in a pan.

Add chopped onion and slit green chilies, shallow fry them.

Add cleaned and washed fresh chicken to bowl. Fry for 10 minutes under light flame

Add salt, turmeric powder, stir it and leave for 5 minutes.

Add Ginger-garlic paste, chilly powder.

Cook it for 5 minutes.

Add water as per gravy requirement (until chicken pieces are immersed in water upto another 1/3rd of content, as gravy thickens later)

Cook until water gets bubbles.

Dry roast Garam masala ingredients mentioned above along with grated coconut and make powder. Add to the mixture above.

Add salt and bring to boil.

Add chopped coriander leaves.

Cook it for 5 minutes and stop the flame (once the gravy turns thick).

Serve with bread or rotis.
Notes
We always prepare ginger-garlic paste fresh and never use ready-made paste. We feel that gives a better flavor.
If you like to have slight variation, try adding Gongura leaves to get different taste and flavor. You may want to soak few Gongura leaves in hot water for few minutes, blanch and rinse them with normal water and add, while preparing this dish.
Add coriander leaves.
However this is not part of Venkat's recipe and we did not want to dilute 'brand Venkat'.