In India, we were frequent visitors to Nandini restaurant. This is the place where we became huge fans of Andhra food. We loved the normal vegetarian thali, which according to us, was a comfort food. The other thing we absolutely loved there was their chicken dishes. Since hubby is not a great fan of chicken with bones, we would always pick up some boneless dish. After a while, our staple chicken order was for an extremely flavorful pepper chicken. It used to be very hot and would have a strong curry leaves flavor to it.
Now after two years in US, I have forgotten how it is supposed to look, but the taste still lingers on my tongue. Every time I buy chicken, hubby's request comes for this dish. So this time, I thought of recreating this dish. Since I wanted a strong pepper and curry leaves flavor to it, I kept it very simple. It came out to be absolutely delicious. Try this at least once to know what I mean.If you have Kashmiri red chili powder in hand, use it for a bright color. Increase the amount of heat if you can tolerate more. It tastes great when savored with lemon juice sprinkled on it.
Ingredients:
1/4 kg boneless chicken
A pinch turmeric
1 tbl spn thick yogurt
1 tea spn ginger paste
1 tea spn garlic paste
1/2 tea spn chili powder
1 tea spn pepper powder
Oil
15-20 curry leaves
Salt
Method:
Apply ginger-garlic paste, chili powder, 1/2 tea spn pepper powder, salt, yogurt to chicken and leave it aside for about 2-3hrs.
Heat oil in a pan. When the oil is steaming hot, add the marinated chicken. Cook for 5-6mins from both sides (do not add any extra water). When the chicken is almost half done, add 1/2 tea spn pepper powder, curry leaves (cut into two), cover and cook till chicken is completely done.Serve hot with lemon wedges.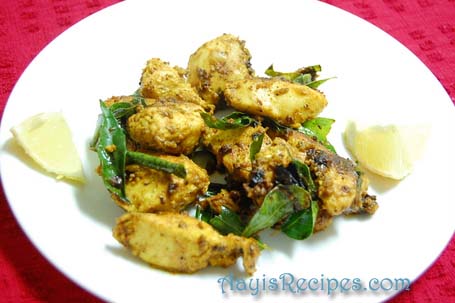 Serves : 2
Preparation time : 15mins