This post was originally published on Sept 12 -2006. I am reposting it with updated pictures which I clicked this time.
This is a dish loved by all the Konkanis who like Mackerel. This dish gets its amazing taste by the method it is prepared. Everybody at our native grows turmeric during monsoon. Basically it is grown for the aromatic turmeric leaves which are used in many traditional dishes. I must admit, some people absolutely hate this aroma. The leaves are even added to milk, while boiling, to give the distinct aroma. If people cannot stand the aroma, they use banana leaves. Few dried leaves are used when fresh ones are not available. That too taste great.
The traditional way of doing it is, spread the leaves in kadai, pour the masala with kokum, tirphal/teppal and fish pieces on the leaves. Then cover the masala with one more layer of leaves. Cover the dish with an plate. Spread some hot charcoal(ingalo) on the plate and cook on a low flame. Most of the time, instead of charcoal, a round 'sheni' – which is a very common combustible material, is used. In this way, the dish gets cooked from both sides and retain the aroma.
Since it was not the season this time, aayi used few dried leaves and few fresh banana leaves for making this. It was out of this world. We ate this dish after a very long time and thoroughly enjoyed it.
Ingredients:
10 pieces mackerel(bangde)
1 cup fresh/frozen coconut
10-12 red chillies
1″ piece ginger
A pinch turmeric
2-3 kokum pieces
4-5 teppal
Banana/turmeric leaves
Salt
If kokum is not available, use tamarind. If teppal is not available, this dish can be prepared without it. But the leaves are necessary, if none of the leaves are available, do not attempt to make this dish since you wont get the actual taste of it.
Method:
Grind coconut, turmeric, ginger and red chillies to a very smooth paste (with very little water).
In a heavy bottomed pan or non stick pan, spread banana/turmeric leaves.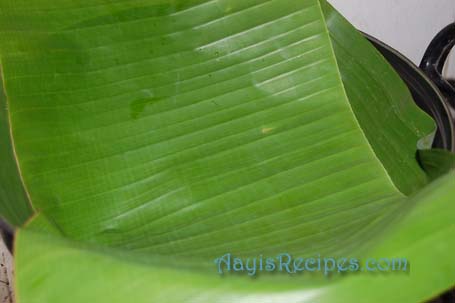 Add the masala, slightly crushed teppal, kokum pieces, salt and fish pieces. Mix gently.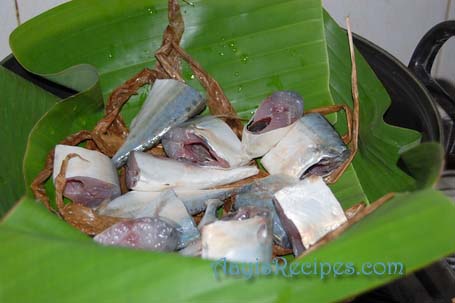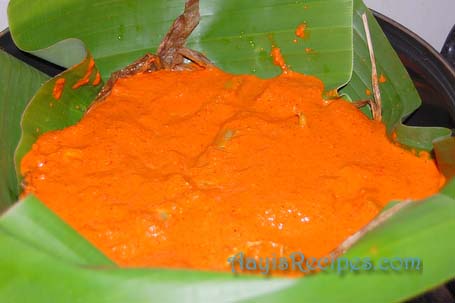 Spread banana/turmeric leaves on top.
Cover the lid.
Spread some lighted charcoals on top.
Cook for around 15-20min on a very low flame.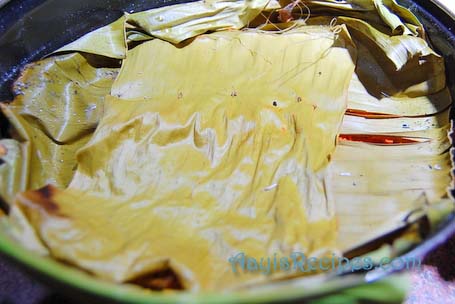 Serve with rice.
(Prepare this dish at least 2-3 hours before serving).
Serves : 4
Preparation time : 30 min