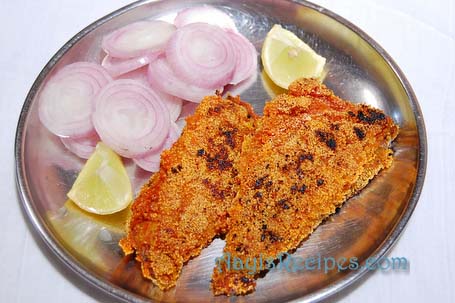 Finally I am happy to say, I can cook fish!!!. This was my weak point for a long time. I recently tried this delicious Bangda(Meckeral) fry and it was great.
As I said earlier, since I am from North Kanara, a coastal area, we used to get very fresh river and sea fish. Unlike my brother, who is a great fan of fish, I seldom liked fish. One small piece of fish, thats all I could eat in a meal. That too, I liked the fried fish more than fish curry.
While in India, even though we used to go out and have fish, we never used to order fish fry. The reason being, in almost all restaurants it used to be deep fried one and my brother hated deep fried fish. So we used to wait until we went to our native during some vacations to eat this delicious dish.
Ingredients:
4 fish pieces
1/2 tea spn crushed garlic
1/4 tea spn tamarind extract
1 tea spn red chili powder
2 tbl spns Sooji (rava)
Oil
Salt
Method:
Clean fish and apply crushed garlic, tamarind, chili, salt to the pieces and leave it for around half an hour.

Heat tava and put one tea spn oil. Roll the fish in sooji so that there is a coating of it around fish.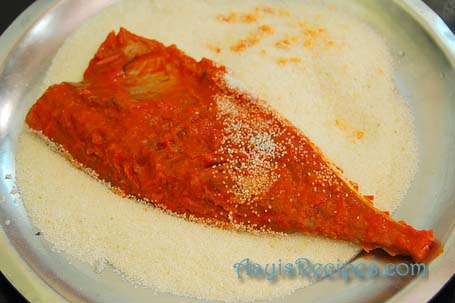 Fry on a low flame on all sides.

Serve hot with rice and Kande tamboli.