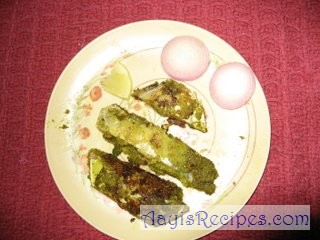 My brother and sis-in-law live in Bangalore. While chatting with them last week, SIL said she was preparing the fish fry. So I asked them to prepare the green-fry and click some pictures for me. At my native, Aayi prepares two types of fries. One with normal masala and the other is green-fry.
I think the green-fry originated from "Pathrani machi" (fish with green masala wrapped in banana leaves). But shallow frying gives this dish a very different taste. Try this and I am sure you all would love this.
Pomfret is used for the fry while clicking the pictures. This fry usually goes well with river fishes (fishes that have many scales). But it was equally good with Pomfret also. I do not think Mackeral (Bangada) would go well for this.
Ingredients:
4-5 fish pieces
1″ ginger piece
3-4 garlic cloves
3-4 green chilies
3-4 strands coriander leaves
1/2 cup sooji(rava)
1/4 tea spn tamarind extract (or 1 tea spn thick juice of tamarind)
Oil
Salt
Rashmi used few Pudina(Mint) leaves along with coriander leaves and it tasted simply superb.
Method:
Make a paste of coriander leaves, green chilies, tamarind, ginger, garlic and salt without adding much water. Apply this paste to fish pieces and leave it for around 30mins.
Roll the fish in sooji and shallow fry on tava.
Serves : 2-3
Preparation time : 15mins (excluding marination time)