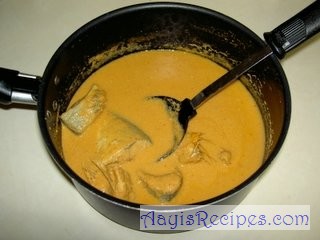 This ambat/curry is the most popular konkan curry I ever wanted to share here. As I said earlier, two types of fish curries are very famous at North Kanara. One of them is Tepla ambat (gravy with teppal Tepla meaning 'with teppal' and 'ambat' meaning 'curry') kande ambat.
The distinguishing taste to this gravy comes from 'teppal' and 'kokum'. A few days back, one of my reader Mugdha sent me the same recipe where in she had specified tamarind juice instead of kokum.
Fishes like bangda(Mackeral), Surmayi(Iswan or Viswan or king fish) or pomfret are used for this dish. This gravy tastes great when prepared very spicy. The traditional gravy is of bright red color. Use Kashmiri chillies if available. The masala should be ground to a very very smooth paste to get the best taste.
Ingredients:
Fish pieces 10
Coconut 1 and 1/2 cups
Red chillies 6-7
Ginger 1″ piece
Teppal 5-6
Turmeric a pinch
Kokum pieces 2-3 or thick tamarind juice 1/2 tea spn
Salt
Method:
Grind coconut with red chillies, ginger and turmeric to a very very smooth paste (grind till the blender/mixer becomes real hot :D) .
Add a tea spn of water along with teppal in a mortar and slightly crush with pestle(only till a white juice is got. The Teppal should not be ground to paste). Some people discard the teppal at this stage and use only the white juice of it, but I like the teppal also in the curry so that the teppal leaves more aroma in the curry as time passes.
Heat the ground masala with sufficient water to get a gravy. Add teppal, kokum pieces(or tamarind juice), salt and cook till the gravy starts boiling. Now add fish (Do not add fish before this, if you do, the fish becomes paste by the time the gravy is cooked) and cook till the fish turns color to white (fish takes around 5-10mins to cook completely).
Serve hot with rice after atleast 2-3 hours from cooking. The taste of gravy increases more on the next day. So prepare it the pravious day and refrigerate it such that next day, you'll realize how tasty it has become.
Serves : 4
Preparation time : 20min