When I was in Bangalore, I had a habit of ordering chicken hariyali whenever we went out for lunch/dinner. I loved this kabab so much that, my brother and husband were tired of eating this dish. I would order this every single time. Chicken biryani and this kabab was my staple every time. My brother finally decided not to go out with me because I would never agree to eat anything else, and since I could never eat it all alone, they had to share these with me.
After coming to US, this is one of the dishes that I missed a lot. I tried making it couple of times, but was never satisfied with the results. Finally I can proudly say, I have learned to make the perfect hariyali kabab. I also made a yogurt-mint dip(grind some mint with yogurt and salt) that is usually served in the restaurants in Bangalore. The dip was not exactly same as the restaurant version, but was quite good and went very well with kababs.
Few years ago, V's uncle owned a kabab center in Bangalore. Once we went there to talk to him and he offered us their specialties. While V was chatting with uncle, I was totally immersed in devouring the kababs. Finally I asked him the recipe for this kabab. I don't remember his exact recipe, but this is what I could recollect. Now that it came out so well, I am going to stick to this.
I think my pappa(dad) would have loved this. So I am dedicating this recipe to him.
Ingredients:
1 lb (0.45kg) boneless chicken breasts
1/2 cup chopped coriander leaves
3 tbl spn chopped mint
3 green chillies
1 tea spn ginger pieces
1 tea spn garlic pieces
4 cloves
1″ cinnamon
1/4 tea spn pepper
2 tbl spn very thick yogurt
1 tea spn lemon juice
Salt
Chaat masala
All the ingredient quantities are approximate only. So increase/decrease to get a thick coating on chicken.
Method:
Make a paste of coriander-mint leaves, ginger, garlic, cloves, cinnamon, pepper, lemon, chillies to a paste. Do not add water.
Cut chicken into 2″x2″ pieces. Add the paste, salt, yogurt to the pieces and mix well. Keep it refrigerated for atleast 4hrs (I left it overnight).
Preheat the oven at 300F for about 10mins.
Line a baking sheet with foil. Arrange the chicken pieces on skewers. Keep the pieces on the sheet.


Cover the sheet with another foil(this is very important, otherwise the pieces get dry). Bake in oven at 300F for about 20mins or till chicken is cooked.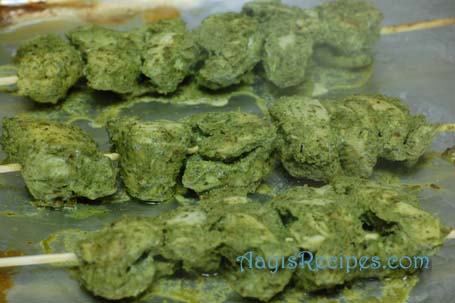 Take them out. Remove the covering foil. Bake it again for 2mins. Flip the pieces and then bake again for another 2mins (this helps to get the dry thick coating on top).
While serving, sprinkle chaat masala on top. Serve hot.
Serves : 2-3
Preparation time : 40mins
PS: If you don't have oven, shallow fry the pieces on tava.