When my children were growing up, I frequently made chaklis and other deep fried dishes. After they moved out to go to college, I hardly made any deep fried dishes. Sometimes we buy ready made munchies to eat with evening tea. At Kumta, we get chaklies of many different varieties. One of our favorite is Spinach chakli. When we were visiting Shilpa and her family in March, we thought of trying to make these at home. They came out so well and tasty. I made a big batch of chaklis before leaving for India.
Ingredients:
4 cups (approx) or 1/2 lb baby spinach
2 tbl spns urad dal
4 cups rice flour
1 tea spn white sesame seeds
2 tbl spn (approx) water
6 tbl spn butter
1 tea spn cumin seeds
Oil
Salt
Method: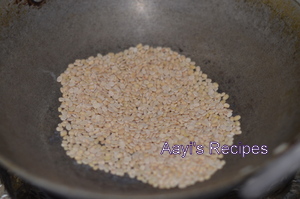 Roast urad dal till it is brownish. Make a smooth powder.


Grind spinach with minimum amount of water(approx 2 tbl spns) to a smooth paste.
Now mix the paste with all other ingredients(except oil) to a dough.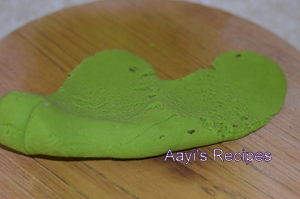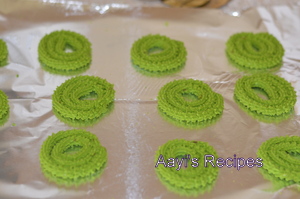 Make chaklis using the chakli press.


Deep fry chaklis.
Store in a air tight container.
PS: First time we tried, we used more butter. Everyone loved the texture and taste but they were breaking very easily. Next time we tried, we used less butter and they were harder but still very good. So use between 1/4 cup(4 tbl spn) to 1/2 cup(8tbl spn) butter based on your liking.