I wish a very happy mother's day to all of you. I was thinking of today's post from many days. I thought of baking a beautiful cake for my Aayi, or cook something that Aayi loves or some of Aayi's dishes, but then realized she is not a cake fan, I didn't know what she likes and I have already posted all of her easy dishes and I could not cook something difficult. Then I remembered these pictures which my brother(he took them when aayi was making these at native) had sent me sometime ago and I had kept them for some special occasion. What can be better than this occasion?. These are one of her all time favorite munchies and she gets extremely happy when I post her dishes(the ones she has cooked). So I thought of posting this for my sweet and cute aayi :).
Ode or Vode are rice flour munchies usually made for dev karya(a religious function). On these days, these munchies are dipped in a special kind of paays(sweet dish) made of chana daal, rice rava, jaggery and coconut. People soak these in sweet dish and eat. So they are made little soft, soggy and little bigger in size. During these functions, many ladies get together and make these in big quantities, because many people are invited for this. These are offered to god during pooja and then served to all the attendees.
But when these are prepared on normal days, they are made small and very crunchy. They can be saved for many days(sometimes for around a month) in airtight containers. They taste simply awesome.
Ingredients:
1 tea spn urad daal
1/4 tea spn methi seeds
3 cups rice flour
A pinch sugar
1/2 tea spn butter (loni)
Coconut water or normal water
Oil
Salt
When these are made during functions, urad daal and methi seeds are not used.
Method:
Dry roast urad daal and methi seeds. Make a powder and add the powder to rice flour. Mix butter, salt, sugar and coconut water and mix into a hard dough. (Usually tender coconut water is added for extra taste. If it cannot be found, use normal water).
Knead very well by rubbing on rolling board. Make a rope of the dough. Cut into small pieces with hand and make balls.

Apply some oil to a plastic sheet or banana leaf, and keep the ball on it. Press with the palm to spread it.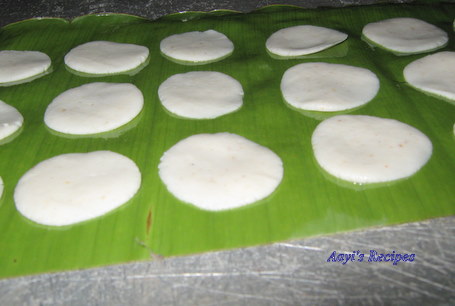 Heat oil in a wok and deep fry these. If the odes don't puff up, the dough might have become not enough hard or the kneading might not be enough.
When they are cooled to room temperature, store them in airtight container.