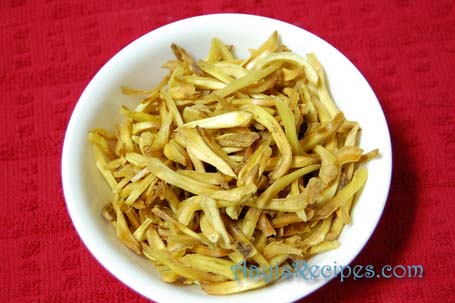 Jackfruit is one of the most loved fruits at my place, ranking second after mango. During season, both ripe and unripe fruit is used in many different dishes. The edible part of the fruit is called ghare(Konkani) or soLe(Kannada), there must be some English name for it, which I don't know.
Making these chips is one of the sweet memories of my childhood. Raw, but firm and fresh jackfruits, just out of the tree, are used for this. The fruit needs to be completely grown and have firm and thick flesh.
First of all, coconut oil is applied to hands and all the knifes which are used to cut these, since they have a lot of gum. To stop the gum falling on floor, newspapers are spread on ground. It was a painstaking process to take out the pieces off the skin- The innermost white portion (mav in Konkani) and the outermost thick, rough skin(sali in Konkani) with some white portion is removed and discarded. This helps in easy removal of the edible pieces. Now the big firm pieces are removed carefully. The pieces are cut in long pieces and the seeds are discarded. These long pieces are the ones used for chips.
I am not sure how much the last paragraph will help anyone visualize the whole process. I could not find jackfruit suitable for this anywhere here. So I am not able to upload any pictures. When I go to India next time during jackfruit season, I will surely click pictures of it.
My grandfather would search such jackfruits from our yard and aayi would prepare these amazingly tasty chips. These were prepared in large batches. My brother and I would finish almost half the batch when aayi used to make this. We loved the taste of hot chips. She used coconut oil, so the shelf life of these chips was quite high.
Ingredients:
Jackfruit cut into long pieces (pieces should be very firm)
Oil
Turmeric powder
Salt
Method:
Mix 3 tea spns salt, 1/2 tea spn turmeric with about 1 cup water and keep aside.
Heat oil and deep fry the jackfruit in it. When it is almost done(you can say this by the sound. Initially when the pieces are not fried, you won't get any sound, as they get fried, you can clearly hear the sound when you mix the pieces with a spoon), pour 1-2 tea spns of the salt-turmeric water in it. Fry till completely done.
PS: – The amount of salt water to be added can be adjusted only after tasting the first batch. As time passes, the oil retains some salt and becomes really salty. So keep tasting it to check correct taste.
– When the salted water is added to hot oil, oil splashes out and makes a huge sound. So make sure to stand away from the stove.
– After taking out, when the pieces are still hot, a tea spn of chili powder can be sprinkled on it, for extra taste.