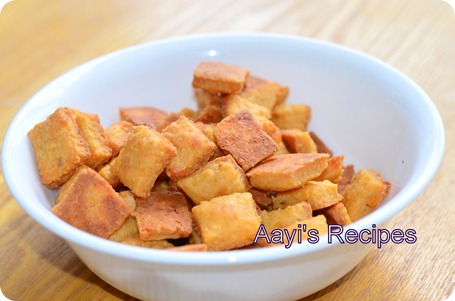 Like any other kid that goes to daycare here, Ishaan loved goldfish crackers from a very young age. Although I was okay if he ate them at daycare, I like to avoid giving them at home. So I wanted to make something similar for him, where I could control the ingredients. One day I was searching for crackers recipe and I came across this and this. I bookmarked the recipe and forgot all about it. Finally yesterday I made them. Instead of all purpose flour, I used wheat flour(chapati atta), so they turned out little dense. For some extra flavor, I added cumin seeds and chilli powder. They tasted great. Next time I will make them a little thin and use finely grated cheese, since some were not very crispy.
Ingredients:
1 cup wheat flour
8 oz mild cheddar cheese
1/2 tea spn cumin seeds(slightly crushed) – optional
4 tbl spn unsalted butter
1/2 tea spn chilli powder – optional
4-5 tbl spn water
Salt
Method:
Mix everything together to make a dough. While adding water, add 1 tbl spn at a time till the dough comes together nicely.
Wrap in a plastic wrap and refrigerate for 3-4hrs.
Preheat the oven at 350F.
Roll the dough into 1/8 inch thin sheet. Remember, if you make them too thick, they do not become crispy.  Cut them into required shapes.
Bake for around 18-20 mins till they get a golden color. I checked them after 15mins and then kept them again for couple more minutes. Let them cool to room temperature, serve.
Pictorial: