Makar Sankranti is just around the corner. That reminds me to post this very very special recipe here. I have been thinking about it for a long time. For us, Sankranti was always associated with this very tasty sugar drops – tilgul or kante halvo (Kante – spikes, halvo – halwa, a sweet dish). On Sankranti, we give a handful of this tilgul  and sesame laddoo to everyone we meet and tell them "tilgul ghya goaD goaD bola"(take tilgul and talk sweet), which finally evolved into "Take sweet, talk sweet and be sweet" in schools. We take blessings from elders and bless the younger ones.

There was a time when everyone prepared these tilgul at home. Aayi always talked about how my grandmom used to make it at home. These days we get tilgul in market, but they are no where as tasty as the homemade ones. At my native, only a few ladies make these at home now. Last year, I was in India during Sankranti and asked my kaki (My dad's cousin's wife) to show me the procedure. She makes such beautiful and very tasty tilgul every year. She was very kind enough to let me take pictures also. It is believed that when tilgul prepared during very cold mornings gives best results, so most of the people make it in the early mornings. But kaki said she makes them when she finds an hour or so free, no matter what time of the day.
I have never attempted this myself. But every year I think about it. May be one of these days I will. Tilgul mostly consists of sugar coated sesame seeds (til), but other nuts/spices like peanuts(groundnuts),  fennel seeds(saunf/badishep), cloves, pumpkin seeds, cashews are also added to give that extra taste.
Ingredients:
2 cups sugar (use sugar crystals which gives better results)
3/4 cup water
1/2 cup milk
1 cup sesame seeds (til), cashews, fennel seeds(saunf), cloves, pumpkin seeds, cardamom seeds, peanuts(ground nuts) etc
Method:


Sundry  sesame seeds (til), cashews, cloves, pumpkin seeds, cardamom seeds, peanuts(ground nuts) for a day to remove any moisture.


Take sugar and water in a pan and bring it to boil. When it starts boiling, take off the heat and sieve it though  a thin cloth. You will find some black/gray dirt particles on the cloth.
Take the sugar water and heat again. After few minutes, sieve again. Repeat this 2-3 times till all the dirt particles are gone.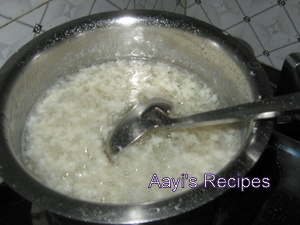 Heat the sugar water again, when it starts boiling, add the milk. Milk will break when you continue heating (desired effect). Sieve it again.


Heat the sugar water again. Put a drop on kitchen counter/plate. If it sits like a drop and does not spread, the sugar syrup is ready to use. Let the syrup cool completely (usually left overnight to cool).


On a very low heat (Usually a coal stove is used, which is kept on a very low heat), take the sesame seeds and other nuts/spices in a thick brass plate. Add one tea spn of syrup on it and start mixing with fingers. Remember, not to use any spoon for mixing. This has to be done by fingers, very carefully, taking care not to break any sugar spikes. If it becomes too hot, take off the heat, keep mixing continuously.
Usually only a few coatings are done each day. So it takes about 4-5 days (or more depending on how much sugar coating is desired) to get the beautiful looking tilgul.
If needed add some color to some part of sugar syrup before using it to coat.
Remember, patience is the key to get beautiful tilgul. Never rush through any steps. Only add a tea spn sugar at a time. You cannot rush the process in any way.