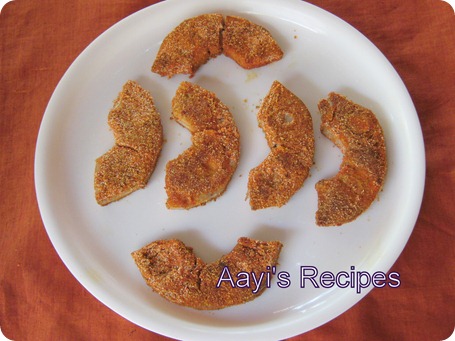 Jackfruits are easily available in this season. Raw jackfruit is called pansa kadgi or Chakke kadgi in Konakni. It is one of the very commonly used ingredients in Konkani recipes. These phodis have a silghtly different method of preparation compared to any other phodis that we prepare. These are not as common as the other ones. But they have a distinct taste and liked by many. Recently, one of our readers asked about this. So I prepared them after a long time. They cook slowly. Hence it is required to cook them in cooker and then shallow fry.
Ingredients:
7-8 Raw jackfruit (kadgi) pieces
1/2 cup rawa(sooji or rice rawa)
1 tbl spn rice flour or Chana flour(besan) – (optional)
Salt
1/2 tea spn chilly powder
Asafoetida
Oil
Method:
Cut the raw jackfruit into two halves. Remove the skin.
Remove the innermost part. Cut 1 cm thin slices and immerse in water for about ten minutes to get rid off any gum that comes after cutting.
Remove the slices and cook in a cooker under steam pressure for one whistle. After cooling, sprinkle salt, asafoetida and leave for about five minutes.
Mix rawa, chilly powder and chana flour(besan) on a plate. Roll the jackfruit pieces in the mixture. Put them on hot tawa and shallowfry them
on both sides. Chana flour or Riceflour is used to keep the rawa intact.
Serves : 2-3
Preparation time : 30mins
Pictorial: