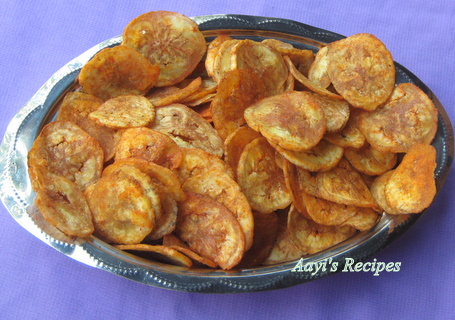 Banana chips are a very popular snack. We grow many varieties of bananas in our garden. Some of these are consumed ripe and some are mainly used for cooking (also called plantains). As my children liked them, I used to prepare them on large scale and store them in big tin containers. They loved to eat hot chips just out of oil. While my son and husband loved the spicy ones, my daughter liked plain chips.
I usually fried them in coconut oil as we were not diet conscious in those days. Chips fried in coconut oil last for more days. Any types of raw bananas (fully grown only) can be used for this purpose. I normally use a local variety called 'Anabale' in Konkani. Another popular variety used is called 'Nendrabale'.
Ingredients:
Raw bananas
Oil
SSlt
Turmeric powder
Red chilly powder/pepper powder (optional)
Method:
Put longitudinal cuts on the external surface of bananas with knife and peel off the skin. Apply little oil to palms (to avoid palms becoming sticky and black). Immerse the peeled bananas in water for about thirty minutes. This removes the gum from bananas.
Cut the bananas into thin circular chips and spread them on a cotton cloth and allow them to dry for about thirty minutes.
Mix 1-2 tea spn salt and 1/4 tea spn turmeric powder in 1/4 cup of water and keep it aside.
Heat oil and deep fry the dried banana chips in it. When they are almost done (Take the spoon and mix the chips, if you can hear the sound of chips, then they are almost done) pour 1-2 tea spn salt and turmeric water in it. Take care to avoid splashing of hot oil when you add salt water to the oil. Frying is almost over when the splashing and the sound ceases.
Take off the chips from the oil. You can sprinkle the red chilly powder or pepper powder over the fried chips per your taste.
You can store these chips in a container when they cool. Remember to reduce the amount of salt water for subsequent batches as the oil in the pan absorb some amount of salt.
Note: Instead of adding normal salt, you can also sprinkle some rock salt on top to introduce unique taste.
Pictorial: