My mother is called as 'pickle specialist' by all our relatives. She makes the best pickles I have ever had. The authentic Konkani mango pickle is prepared using the tiny mangoes called as 'appi ambli' (ambli – raw mango). It has a long procedure and I am not sure I would make it any time in my life. She uses very very less amount of oil, no artificial preservatives and the pickle remains good for 3-4 years!!!.
'Karmbi nonche' is the easiest pickle among all different pickles she makes. The raw mango is cut into bite size pieces and suffiecient amount of salt is added to it. After 1-2 days, the mango pieces absorb the salt, this stage of mago is called as 'karmbi' and the whole process is called as 'karmbuche'. When we were kids, we used to finish the mango pieces before the masala was added to make the pickle :). Ahh..I still remember that taste.
The distinguishing taste of my mother's pickles comes from generous amount of Hingu(asafoetida). The hing/hingu that we get at our native has very  strong aroma compared to the ones we usually get in other places. Authentic recipe calls for 'Til oil'(sesame oil) in this recipe. But I used vegetable oil and still the taste was superb. Asafoetida granules are better compared to the powder, but if they are not available, use the powder.
This pickle is ready to eat as soon as it is prepared. But usually it tastes better from the next day. This pickle is not very long lasting, because the mangoes loose the crunchiness after few days. So finish it within 15days.
Ingredients:
Raw mangoes 2
Salt 1/2 cup
Mustard seeds 2 tea spns
Methi(Fenugreek) seeds 1/2 tea spn
Oil 1 tea spn
Asafoetida powder 1/4 tea spn or Asafoetida granules(big sized) 2
Chilli powder 2 tea spns
Method: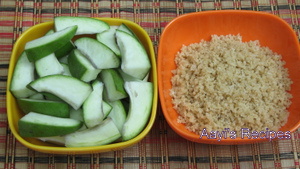 Wipe the mangoes with clean cloth to remove any traces of water. Cut them into bite size pieces and add salt. Keep aside for 1-2 days.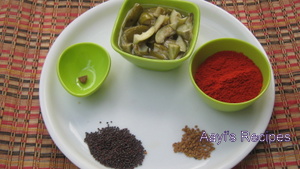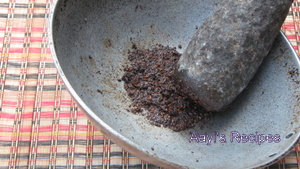 Heat oil and fry mustard, methi seeds and asafoetida. When they start popping, remove from heat and grind them (there should not be any traces of water in any of the vessels used to make pickle. Water spoils the pickle soon).
Add the ground masala and chilli powder to mangoes and mix well.
The first day this pickle should taste a bit salty, if less salt is added, pickle gets spoiled soon.
Store in air tight container.
Preparation time : 30mins