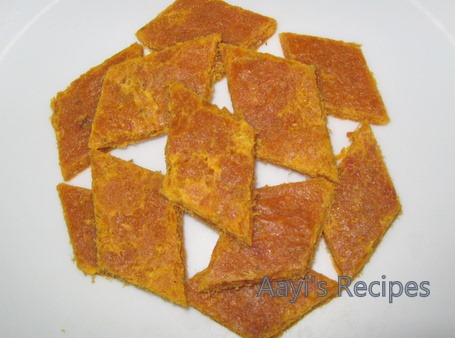 During mango season, we prepare so many dishes of mangos. Mango burfi is one amongst them. These are liked very much by all at my home. My grandmother was preparing many batches of Mango burfis. I have been making them every year in the season from many years.
Hot mango pulp splatters all over the hands while stirring in the pan. Hence I was a little reluctant to prepare these burfis again and again. I prefer to use Ishad mangoes(a local variety of mangoes) for this purpose as it contains a lot of pulp compared to any others available here.
My daughter tried it with the ready made pulp a couple of times without much success, so I would suggest using fresh mango pulp for this.
Ingredients:
2 cups Mangopulp
Sugar
1/2 tea spn Cardmom powder
1 tea spn ghee
Method:
Peel off the mangos and collect the pulp. Make the pulp smoother by using mixer or blender.
Take the pulp in a pan and heat it on a medium flame. Go on stirring the pulp till it becomes semisolid. If the stirring is interrupted, the pulp may get stuck to the bottom and get burnt. In order to avoid this,it is better to use nonstick pan.
Measure the semisolid pulp and take the same quantity of sugar. Go on heating and stirring the pulp and sugar in the pan till it stops sticking to the sides. Put off the flame once the
pulp becomes solid and attains orange color. Mix cardamom powder with the pulp.
Smear ghee to the rolling pad and spread the mixture over it. Spread it with the help of
rolling pin. Cut it to suitable size and shape.
Allow the burfis to cool and then store them in airtight container.
Pictorial: