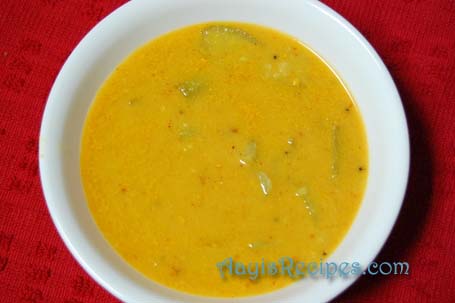 If you ask me what is my comfort food, Dali Ambat is one of the dishes that comes to my mind. Dali ambat is a simple delicious gravy with vegetable and coconut. Paired with hot rice, this makes a great comforting meal. The aroma that comes out of it while its cooking is very intoxicating.
I have prepared this dish for many of my non-Konkani friends and this has become a regular in their homes too.
Ingredients:
1 cup Toor dal
1/2 cup fresh/frozen coconut
A pinch asafoetida
1 tea spn coriander seeds
5-6 red chillies
1/4 tea spn tamarind extract or 1-2 pieces of tamarind
Salt
5-6 Curry leaves
1/2 tea spn mustard seeds
Oil
1 cup of any one of the following vegetables
– Potato
– Tendli (ivy gourd)
– Brinjal(Egg plant)
– Seeme badane( chyote squash)
– Phagla(Indian gourd/kantola)
– Lauki(Gardudde/bottle gourd)
Method:
Cook toor dal with turmeric. Cook vegetables.
Heat oil and fry coriander seeds.
Grind with coconut, red chilies, tamarind.
Add to cooked dal & vegetables. Bring it to boil. Take off the heat.
Heat oil. Add mustard. When they start popping, add curry leaves & asafoetida. Add this seasoning to the gravy and close the lid. Serve hot with rice.
Serves : 4-5
Preparation time : 20min
PS: When ivy gourd(tendli) is used, add few cashews with them while cooking. It gives a great taste.