I know this place has been very quiet for last few days. First the camera had some issues, then technical issues with the site and when they got resolved, I was down with pretty severe cold. All I wanted to do was sleep!. But I have been very active with my other blog art Campus. Finally I am making some time for the crafts – which I love so much but never had time to explore more!.
The temperatures here are dropping very fast. It is not possible to step outside without jackets. I was hoping we will have few more days to play outside, but we are staying indoors for now. That also means I am making a lot of soups. If anyone is interested, I will post them here.
Here is a simple recipe for Corn Flakes Chivda. A chivda can't be simpler than this. I made this because I had to use up a large batch of Kellog's corn flakes that we bought but could not finish. It was nearing expiration and I had to think of something. Since I usually like to make a hot breakfast every morning, corn flakes or cereals hardly get finished. V had bought this bag when I was in India and he could not finish it. These corn flakes were slightly sweetish, any corn flakes can be used. All my friends that tasted this loved it.
Also check out corn flakes rolls.
Ingredients:
5 cups corn flakes
2 tbl spns peanuts
2 tbl spns cashews (optional)
1 tea spn cumin powder
1 tea spn coriander powder
1 tea spn poha masala (optional, but gives a great aroma and taste)
1 tea spn chaat masala
6-7 curry leaves
1 tea spn mustard seeds
1 tea spn urad dal
A big pinch of asafoetida
1/4 tea spn turmeric
1 tea spn sugar (optional, do not use of corn flakes are sweet)
1/2 tea spn chilli powder
1/2 cup sev (optional)
Oil
Salt
Method:


Heat about 2-3 tbl spn oil and add peanuts and cashews. Fry for a minute and then add mustard seeds, urad dal. When they start popping, add curry leaves and asafoetida.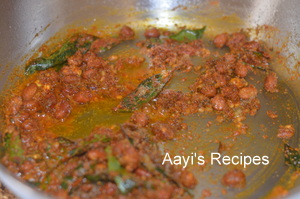 Reduce the heat to medium-low and add all dry masalas and salt. Mix well.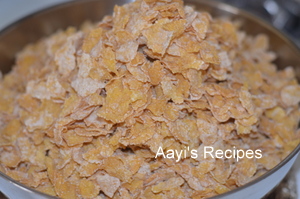 Now add corn flakes, sev. Mix everything very well.
Let it cool to room temperature, then store in air tight container.
Preparation time : 20mins