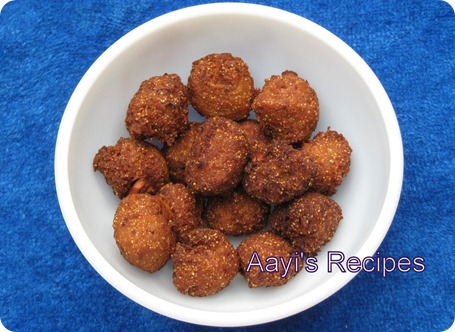 Generally these Muliks(as they are called by some Konkanis) or Modaks(as they are called at our place) are prepared with bananas. Some people prepare them using jackfruit also.The other day my neighbor gave me a few modaks made of cashew fruits. I did not know about them till then. They were tasty. I prepared them as I get cashew fruits easily near our Gramdevi Temple where we have cultivated hundreds of cashew trees.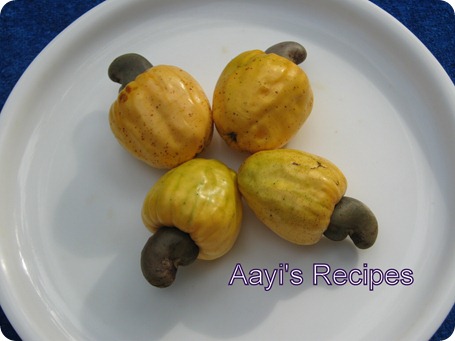 Cashew fruits have a very strong smell which is not liked by many. I am not a great fan of these fruits. But these modaks turned out great.
Ingredients:
1 cup cashew fruit pieces
3/4 cup grated coconut
1/2 cup sooji/rava
1/4 cup jaggery
2-3 tea son cashewnut pieces(optional)
1/2 tea spn Cardamom powder
Salt
Oil or ghee for deep frying
Method:
Grind cashew fruit pieces and grated coconut in a mixer.Add jaggery to this mixture and continue grinding. Take this smooth paste in a bowl. Mix sooji, cashewnut pieces, cardamom powder and salt with this paste. Make small balls and deep fry in oil or ghee on low flame till they turn brown.
Serves : 3-4
Preparation time : 20mins
Pictorial: