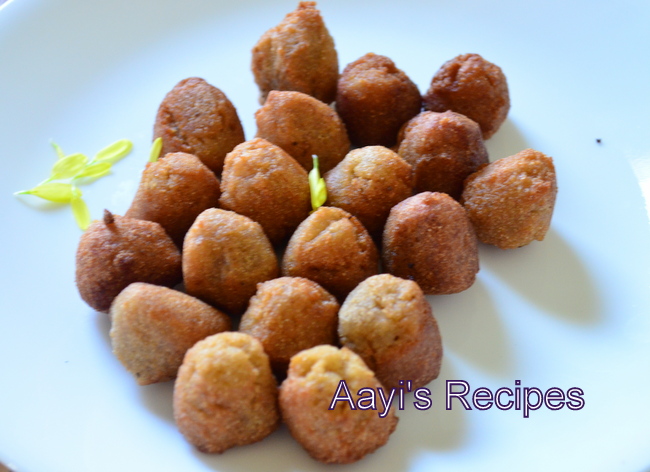 Wish you all a very happy Ganesh Chaturthi.
Like every year, this year too we celebrated Ganesha festival at home. Since the festival is on Monday, V got enough time to get everything ready for it. He worked tirelessly by running to different stores a million times to get groceries and other things needed for pooja. He wanted to make a wooden mantapa this time and decorate it. It took him quite some time to make. All the decorations were very simple but I loved how beautiful it looked, it was perfect for the small idol we got. I made these banana modaks and some other sweets for offering.

I stressed over the festival for last few days. I was very sick for last few days and I was not sure if I could make all the dishes. V offered to get sweets from store so I could take rest. I thought of making just modaks. When I mentioned this to aayi, she reminded me of these banana modaks. These were the kind offered to god at my hometown in India. I have so many memories of eating these while growing up. I would go to see ganesha idols in our hometown and would love eating these. I have not tasted them in a very long time mainly because I have always prepared the stuffed modaks for the festival which were a tradition at my in-laws place. I decided to make these kele (banana) modak or mulik as some Konkanis call it. These are very tasty and would considerably reduce the time infront of stove. These modaks usually do not have the traditional modak shapes. I tried to make some in the shape by applying a little water to palm of my hands and fingers.
Here is my humble offering this year –


– Idli, mooga mole randayi, hinga-udak which is prepared for every Ganesh festival. Instead of traditional hittu I make idlis because we don't get the jackfruit leaves here to make the little baskets
– Rice, dali thoy with ghee
– Banana modaks
– Sheera with saffron
– Doodh paank. I prepared this in coconut milk – whole milk and used saffron. It got a great taste from fresh coconut milk.
– A simple panchakajjaya with coconut, sugar, ghee, cardamom and sesame seeds
– I still fell short of one prasadam(offering), so I included sugar-ghee.
– Panchamrut – A mix of milk, yogurt, jaggery/sugar, honey, ghee.
Both V and Ishaan loved to gorge on the food after the pooja (although little one did not touch any of the sweets, ohh well, that is a a battle for another day!!).
Also check out cashew fruit modaks which are similar to these.
Ingredients:
1 cup rava/sooji
1/2 cup banana (one big banana mashed)
1/2 cup grated coconut
1/2 cup sugar/jaggery
1/2 tea spn cardamom powder
2 tbl spns milk
Ghee
Method:


Grind together banana, coconut and jaggery using milk. The paste need not be very smooth. Just make sure everything is well mixed.
Add the paste to rava. Add cardamom powder and mix everything with a spoon. Leave it aside for 20-30 mins to let the rava soak all the juices.


Heat ghee (for the offering, it is usually prepared in ghee which gives a great taste/aroma). Make small balls from the mixture and deep fry. The size of these is much smaller than other stuffed modaks.
To give modak shape, apply some water to palm of your left hand and your fingers to avoid sticking. They don't retain the shape very well, but sti