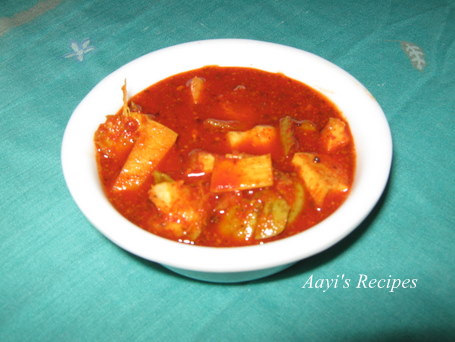 Ambade(hog plums/amtekayi/ambazhanga) trees are commonly found in backyards of most of the houses in our region. There are two types of ambades – sour and nonsour(sweet ). We use sour ambades for this pickle. These sour ambades are preferred in most of the recipes to obtain sour taste.These trees bear hundreds of fruits and we use tender ones – provided they get spared from 'monkey business'. Yes, we have these mischievous monkeys visiting our garden frequently. Monkeys eat them and hardly allow them to grow.
We also use tender bamboo shoots preserved in salt for this pickle.
Ingredients:
½ cup bamboo shoot pieces (keerlu)
½ cup (5 or 6) crushed hog plums(ambades)
1/3 cup salt
1 cup Water
4 tea spn chilly powder
2 tea spn mustard seeds
1 tea spn fenugreek seeds(methi)
½ tea spn asafoetida
½ tea spn turmeric powder
2 tea spn oil
Be careful with the salt quantity. I use the raw sea salt that we get here. So change it to your taste.
Method:
Boil water with salt till it reduces by about half inch in volume and keep it aside to cool to allow it to come to room temperature. (This is called 'meeta khol' in Konkani ). Immerse the crushed ambades in it and keep it aside for about thirty minutes.


Heat oil in a small pan. Add mustard, fenugreek and asafoetida. Once the mustard seeds start popping, bring it to room temperature and powder it.
Mix this powder, chilly powder and turmeric powder with salted bamboo shoot pieces and add them to the soaked ambades in salt water. Mix very well.
The pickle is ready for use after about thirty minutes. It can be stored for many days.