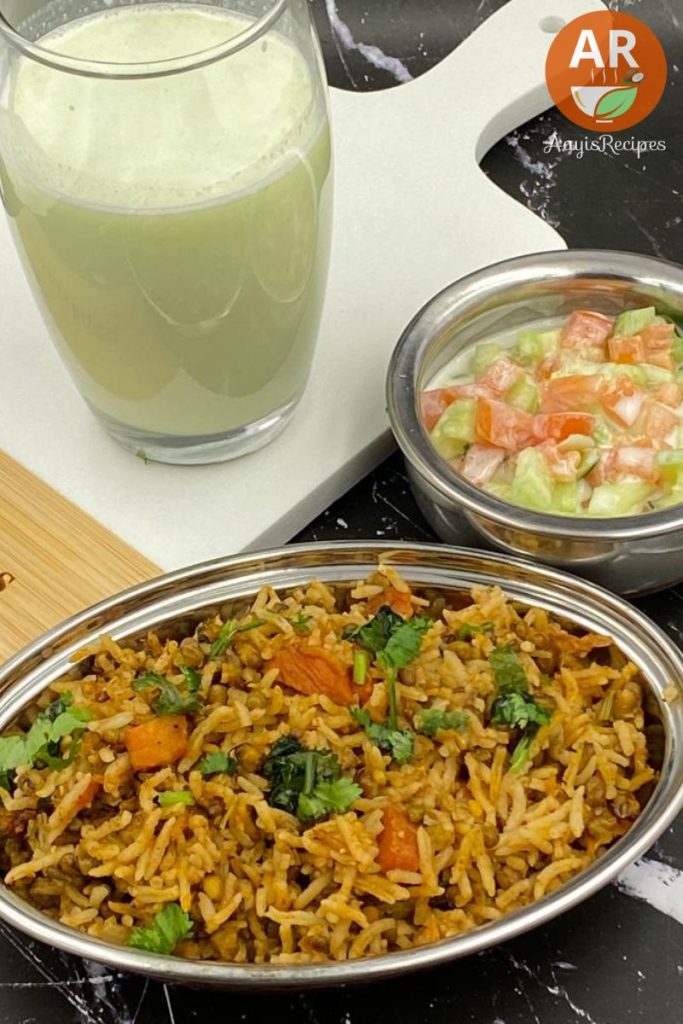 It is hard to make time consuming dishes during the weekdays. But with all our daily work, it is very important to have the right nutrition. I pick easy but nutritious dishes on such days. This Pulav with Green Moong and Coconut Milk is one such dish. It is very similar to the other Sprouted moong pulav I posted few years ago, but I made some modifications.
I make this Pulav with Green Moong and Coconut Milk in Instantpot. It takes very less active work, but is full of flavor and nutrition. Preferably use sprouted moong but I don't always remember to sprout moong, so I just cook the moong in pressure cooker for few whistles(taking care not to make it mushy) and then add it. I add thick stems of coriander leaves(we would otherwise waste these!) that give a nice aroma to the pulav.
Ingredients:
1 cup basmati rice
3/4 cup green moong
1 tea spn chilli powder
1/2 cup carrots
1/2 cup onion
1/2 cup tomatoes
1/4 cup thick stems of coriander leaves
1/2 tea spn garam masala
A pinch turmeric
1/2 tea spn coriander powder
1/2 tea spn cumin powder
1 can coconut milk
Oil
1 tbl spn coriander leaves
Salt

Method:
If you haven't sprouted green moong, pressure cook the moong for 2-3 whistles.
Heat oil and fry onions and finely chopped thick stems of coriander leaves. Add salt.
Add carrots, tomatoes. Cook for few mins.
Add turmeric, chilli powder, coriander powder, cumin powder, garam masala.
Now add washed basmati rice, fry for few mins.
Add cooked or sprouted moong.
Pour in one whole can of coconut milk (if needed, add more water that is enough to cook rice).
Cook on manual for 3 mins, high pressure.
When pressure is gone, open the instantpot, gently mix the pulav.
Garnish with coriander leaves.

PS: Follow exact steps in a pressure cooker if you don't have Instantpot.

Serves :3
Preparation time : 20mins.