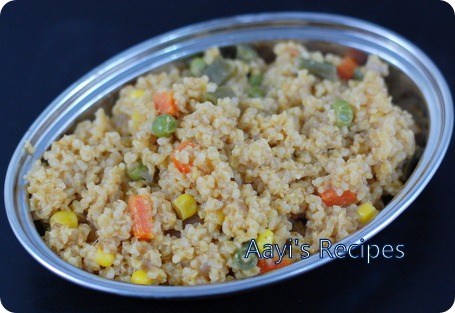 I am trying to switch to a healthy diet these days. After discussing with some of my friends, I tried couple of healthy replacements to white rice like quinoa, brown rice etc. But the thing we all liked the most is cracked wheat. So instead of using white rice/basmati rice, I use cracked wheat for our daily meals. It goes very well with all the gravies/dals, in pulavs, pongals/khichdis etc. I remember few years ago, aayi mentioning she uses this to make a kind of congee(Pej). I never thought I would start using it so soon – to be very frank, I did not think we would like it when I saw it first time.
Ingredients:
1 cup cracked wheat
1 cup vegetables (corn, green beans, green peas, carrots)
1/2 cup onion
1 tea spn ginger garlic paste
1/2 tea spn red chilli powder
1/2 tea spn coriander powder
1 tbl spn grated coconut(optional)
1/2 tea spn cumin powder
1 tbl spn lemon juice
Ghee/Oil
Salt
Method:
Heat ghee/oil and fry onion, ginger-garlic paste. When the onions turn translucent, add vegetables, cracked wheat, coconut, chilli powder, coriander-cumin powder, salt. Fry very well for 2-3mins. Add 2 and 1/2 cups of water. Cook in pressure cooker – for about 3-4 whistles. Take off the heat. Add lemon juice and mix well. Serve hot.
Serves : 2
Preparation time : 25mins
Pictorial: