Most of the Konkani dishes contain coconut as the main ingredient. But a very few dishes like 'Tomato saru',which does not contain coconut, are very famous. I guess these were prepared when the ladies were bored of cooking and still wanted to prepare something delicious. My aayi usually prepared this for dinner.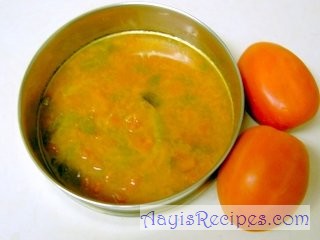 In North Kanara, people usually cook(except rice, which is prepared fresh for lunch/dinner) in the morning for both lunch & dinner. Sometimes when the main dishes get over in the lunch, simple items like this is prepared for dinner. (Mainly because, people did not have electric mixer or grinders at home. Grinding was done using the hand grinders. So all the cooking was done once in a day. A lot has changed in recent years. All the people have these electric appliances, but since most of the places i am refering to are villages and there is power cut 10 hrs a day, and sometimes more than that, people still follow the old tradition of cooking once in a day).
Ingredients:
Tomatos(ripe) 2
Green chillies 2
Sambar powder 1 tea spn
Sugar 1/2 tea spn
Mustard 1/2 tea spn
Cumin seeds(Jeera) 1/2 tea spn
Asafoetida(hingu) a pinch
Coriander leaves 3-4 strands
Oil/ghee 1/2 tea spn
Curry leaves 1
Salt
Method:
Heat oil and add mustard and jeera. When they start spluttering, add curry leaves, slitted green chillies and asafoetida. Fry for sometime. Add 3 cups of water and tomatoes cut into big cubes. Cover and cook till tomatoes become soft. Add salt, sugar and sambar powder. Cook for 1min. Garnish with coriander leaves.
Serve hot with rice.
Serves : 2
Preparation time : 10min