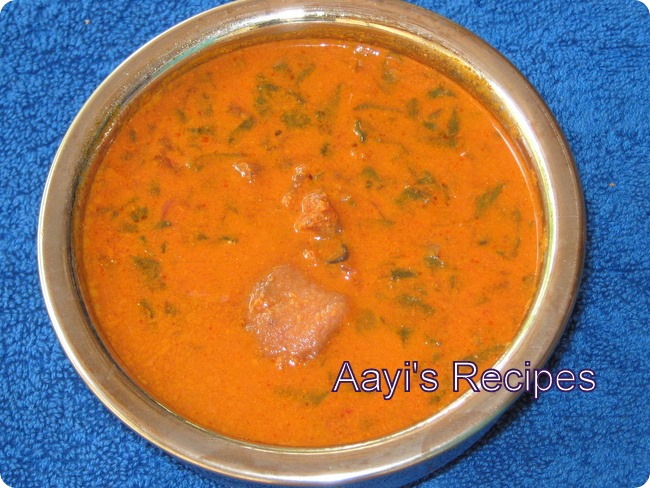 Red amaranth is a very popular leafy vegetable that we get in the market here. It is in season now, so we go to any santhe(like a local farmer's market) we can find this in abundance. Some people even get this to our door step. There are many varieties of tamdi (red) bhajji (leafy vegetable), some are bright red – where the gravies look almost like beetroot and some loose that color when cooked. Often, the farmers cut the portion outside the soil which is called modile(literally means cut) bhajji.
We prepare bhajji sasam, randayi, upkari (simple stir fry) etc with this. This ambat (gravy) can be prepared with spinach or malabar spinach (vali) also. We usually prepare the fritters(odi) during summer and they are used in such gravies throughout the year.
Ingredients:
3 -5 cups chopped red amaranth
1 cup fresh/frozen coconut
5-6 red chillies
1 tea spn mustard seeds
1/2 cup ashguard fritters/kulave odi
Oil
1/2 tea spn tamarind extract
Salt
Method:
Chop the stem and leafy part of the vegetable separately.


Heat oil in a pan and add mustard seeds and fritters. Fry on a low flame till the fritters turn brown. Add the chopped stem and after cooking for sometime, add the leafy part.

Grind coconut, chillies and tamarind to a smooth paste.
Add this paste to the cooked amaranth. Add salt and cook for 2-3 minutes. Serve with chapatis or rice.
Serves : 4-5
Preparation time : 25mins