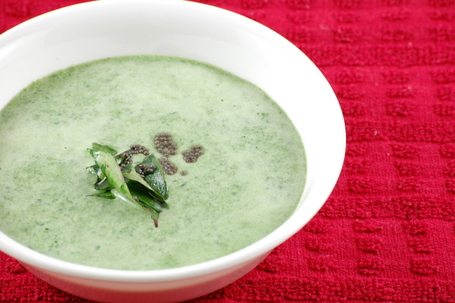 I have been very busy ever since I joined my new job. I am hardly finding any time to relax at home. I didn't want this to affect the blog, but finally I am giving up. I get loads of mails/comments daily asking for one or the other thing. I am not able to keep up with any of those. So for now, I will be able to reply to only few comments/mails when I find free time. I apologize for any inconvenience.
Coming to today's recipe. This is one very simple dish that gets prepared within 15mins. Very healthy and tasty dish that goes well with hot rice.
Ingredients:
1 cup spinach
1 cup thick yogurt
1/2 tea spn cumin seeds
4-5 black peppers
2 green chillies
1/2 tea spn mustard seeds
4-5 curry leaves
Ghee/oil
Salt
Method:
Heat oil and add cumin seeds, pepper, green chillies, spinach, salt. Cook for 5-6mins. Cool to room temperature. Grind it to a smooth paste.
Mix yogurt and water (to bring to gravy consistency). Mix very well.
Heat ghee and add mustard seeds, curry leaves and add this seasoning to tambli.
Serves : 3-4
Preparation time : 15mins