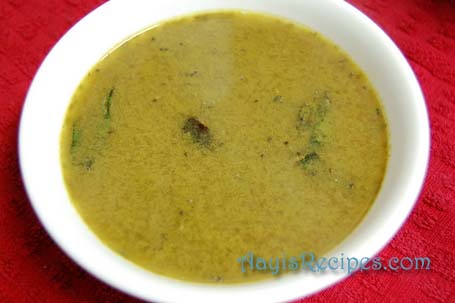 Basidu(Kannada) – after cooking, tilting the vessel to take out all the water off the coarse materials. Here no strainer is used, sometimes a plate is held at the mouth of the vessel to stop the coarse materials from falling with the water. Vegetable stock is not readily available in all places in India. So this was the method used to collect it.
Basidu + saru = bassaru – Saru made from vegetable stock.
Now, I don't want to apply this same theory to Upsaru and say it is uppu(salt) + saru, because it might not make any sense. So I leave that name as it is :).
I got this recipe from a Kannada magazine where they had a special article for "Okkaligara Sampradayika Adugegalu" – Farmer's traditional recipes. According to the article, this dish is popular among Gowdas. One of the main occupation of Gowdas is farming, they cook super healthy food which are full of minerals, vitamins, proteins etc which give them strength to do the physical work.
Bassaru or Upsaru is prepared by straining the water off the vegetables, grains or greens. Then this water is spiced up to make this saru. The vegetables/grains/greens are used to make any palya – dry side dishes. Some people also grind a handful of cooked grains and add to the saru to give a thickness to it. I got this interesting discussion about this saru at Karnataka recipes. As usual, I followed the simplest version given in the magazine. The saru came out to be very delicious.
Ingradients:
3 cups vegetable stock
2-3 green chilies
1/2 tea spn cumin seeds
3-4 peppercorns
1 tea spn chopped garlic
1/2 cup chopped onion
3-4 strands of coriander leaves
1 tbl spn fresh/frozen coconut
1/4 tea spn tamarind extract
1/4 tea spn jaggery
1/2 tea spn mustard seeds
A handful of cooked pulses
4-5 curry leaves
Oil
Salt
Method:
Strain the water off the vegetables or pulses or greens. I used more water while cooking pulses(that I used to make chane usli) and then vegetables (used to make some mixed vegetable curry). Strained the extra water and used for this saru.
Heat a little oil and add cumin seeds, green chilies, peppercorns, garlic, onions till they turn soft. Grind this along with coconut, coriander leaves, pulses.
Add the paste to the strained water along with salt, tamarind and jaggery till it boils well.
Heat a little oil and add mustard seeds. When they start popping, add curry leaves. Pour this seasoning over the saru.
Serve as a gravy with rice or ragi mudde.
Serves : 2
Preparation time : 15mins
Updated: Thanks a lot for the translation Poonam, Manjula, K.Boy. "Stock" was the word I was looking for and could not remember.